As you'll recall from the last article, tax-loss harvesting is a way to lower your income tax bill by selling investments that are currently trading for less than you bought them for and then using those losses to offset other capital gains or to reduce your ordinary taxable income.
Tax-gain harvesting is similar but rather than selling your investments at a loss, you instead sell your investments after they have appreciated.
You may be wondering how a potentially taxable event could be beneficial. I'll explain…
Cost Basis
When you buy an investment, the value of that investment at the time you bought it is called the cost basis.
The cost basis is used when you eventually sell the investment to determine how much tax you need to pay on the investment.
For example, if you purchase 1000 shares of VTSAX for $43 per share, the cost basis for those 1000 shares is $43. If those 1000 shares are then sold for $40 per share, you would be able to book a $3 loss per share, since there is a $3 difference between the cost basis and the selling price.
The purpose of tax-gain harvesting is to increase your cost basis so that when you eventually sell your investments, you have less capital gains taxes to pay (in the event your investments appreciate) or you have a larger loss to harvest (if your investments instead go the other way).
Example
Taking the example from the tax-loss harvesting article, let's see how tax-gain harvesting would improve things.
Instead of doing nothing during the years his investments are increasing, the lab rat from the Retire Even Earlier article decides to harvest his gains.
Therefore, at the end of each year his investments rise (i.e. 2004, 2005, and 2006), he decides to sell and then immediately repurchase the same assets.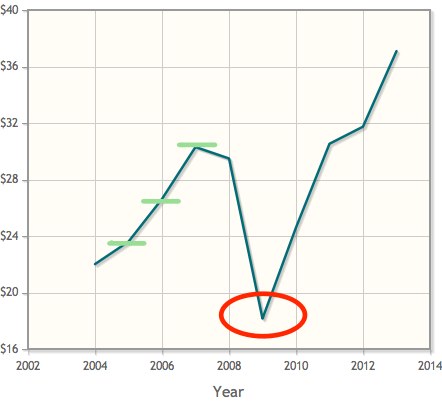 As you'll recall from the tax-loss harvesting article, the lab rat eventually harvested his losses at the end of 2008.
In that article, the average cost basis for his investments at that time was $26.42 per share so when he sold his investments at the end of 2008, he was able to book over $14,000 worth of losses.
By tax-gain harvesting in the years leading up to the crash, he would have been able to increase his average cost basis from $26.42 all the way up to $29.74 per share!
That means, when he harvested his losses at the end of 2008, rather than only book ~$14,000 of losses, he'd lock in over $21,000 of losses instead!
Those $21,000 of losses could then be used to lower his taxable income by $3,000 for the next 7 years!
Capital Gains Taxes
You may be wondering, won't he have to pay tax on those gains each year and won't that decrease the benefit of this strategy?
Luckily, the answer in this case is no!
Based on the lab rat's adjusted gross income, he is in the 15% marginal tax bracket. As you'll recall from previous articles, if you're in the 15% tax bracket or below, your tax rate for long-term capital gains and qualified dividends is 0%.
Therefore, the lab rat is able to sell his investments for a gain, repurchase the same investments at a higher cost basis, and pay $0 of tax for the privilege of doing so!
Long-Term Capital Gains
One thing you'll want to keep in mind is that you shouldn't sell investments that you've held for less than a year. If you do, you'll likely be hit with higher short-term capital gains rates.
By waiting at least a year to sell your investments, you'll be able to pay a lower long-term capital gains tax rate, which is necessary to make this strategy worthwhile.
Wash Sale
You may remember from the tax-loss harvesting article that there are rules about what you can purchase immediately after selling an investment for a loss.
Luckily, these wash-sale rules don't apply when selling an investment for a gain. Since you always pay tax when selling a gain (you just happen to pay 0% in this example situation), you can immediately buy the same asset again.
Conclusion
For someone in the 15% tax bracket or below, tax-gain harvesting is a no-brainer. Just make sure that you don't sell too many investments and end up getting bumped up to a higher tax bracket.
To read about someone who is actually using these strategies to eliminate all income tax during early retirement, check out the following post by my buddy Jeremy over at gocurrycracker.com – Never Pay Taxes Again
If you have any questions about tax-gain harvesting, please feel free to ask below in the comments!
Related Post