This page explains how to use my personal financial independence spreadsheet.
If you haven't already downloaded the spreadsheet, click here to get instant access!
Balances Tab
The first tab in the spreadsheet is where you record your monthly account balances.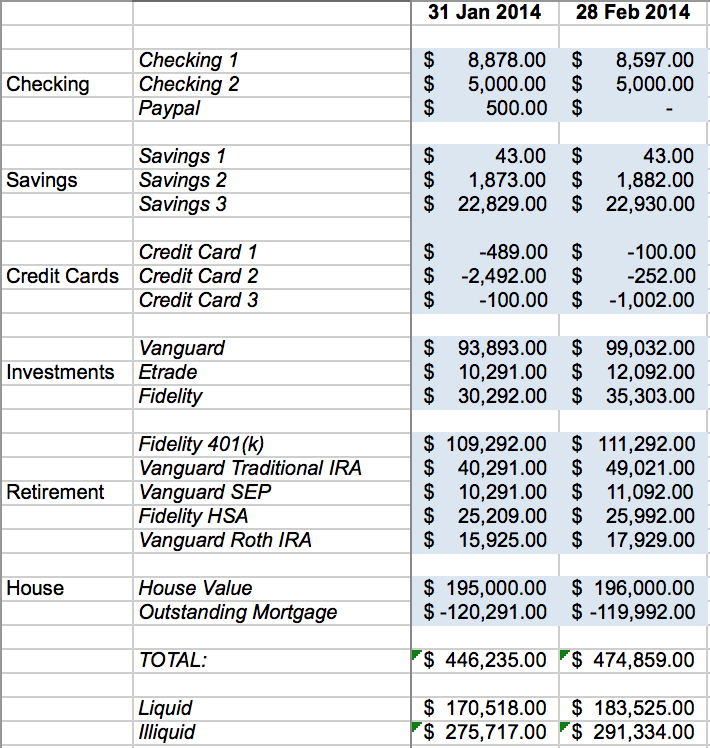 Luckily, this step is easy because Personal Capital aggregates all of your accounts for you.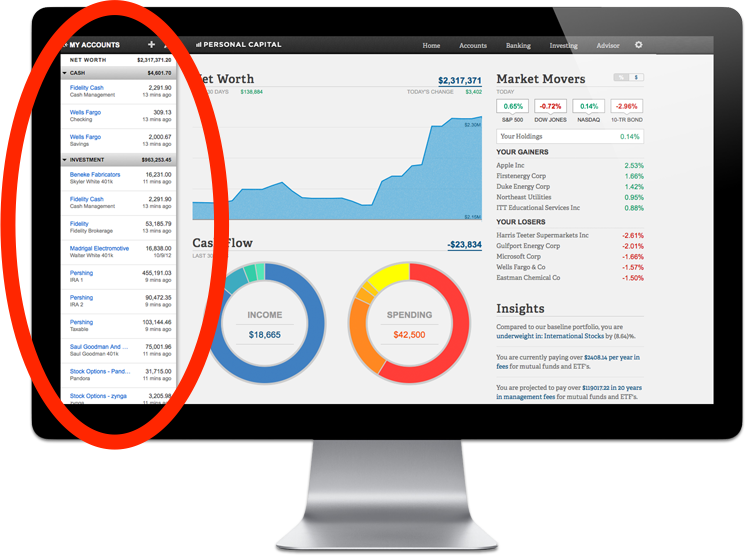 If you don't have a Personal Capital account, you can sign up for free here. It's the best tool I've found for managing a portfolio so I highly recommend it.
For this step, copy the previous month's column in the spreadsheet, change the column header to the current date, and then populate the fields that have a blue background with the latest data from Personal Capital.
Note: You should only update the cells that have a blue background because all other fields have formulas and will update automatically.
In addition to computing your total account balances, this tab also shows how much of your money is liquid (i.e. you could access within a few days, if necessary) vs. illiquid (i.e. money that is harder to get at, like money in your 401(k), your home equity, etc.).
Investments Tab
The Investments tab uses the values in the Balances tab to provide a picture of where your money is located and what you're invested in.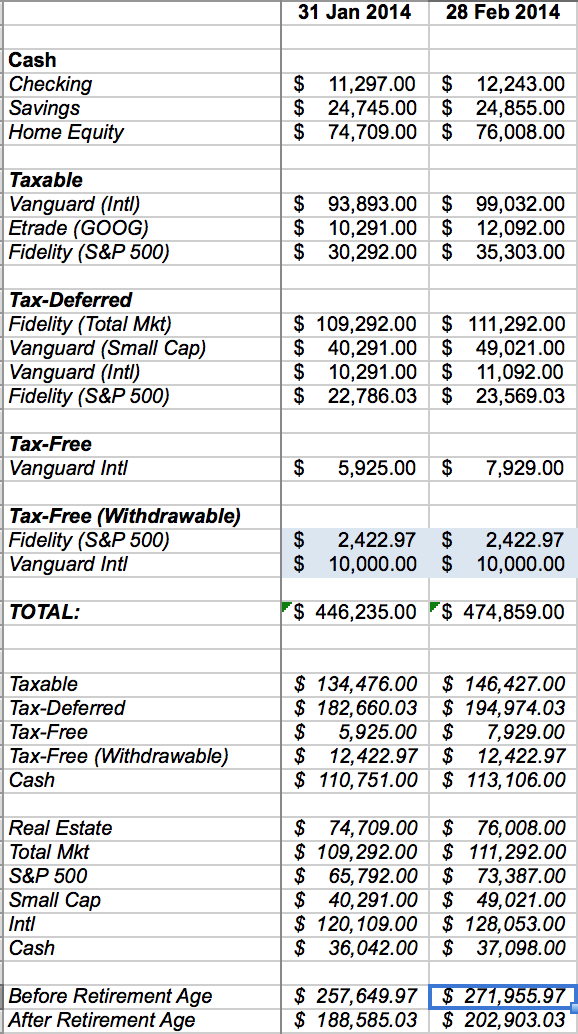 This is where you can keep track of how much of your HSA you can withdraw (see this post for how I use my HSA as an investment account) and how much money you've contributed to your Roth IRA (which can also be withdrawn at any time). These are the only two values that you need to update on this tab because everything else is calculated automatically.
The Investments tab computes the totals in each type of investment account (e.g. taxable, tax deferred, etc.), each type of investment (e.g. real estate, small cap, etc.), and the total amounts available before and after standard retirement age.
Net Worth Tab
The Net Worth tab provides a summary of your assets and liabilities, using the data from the Balances tab.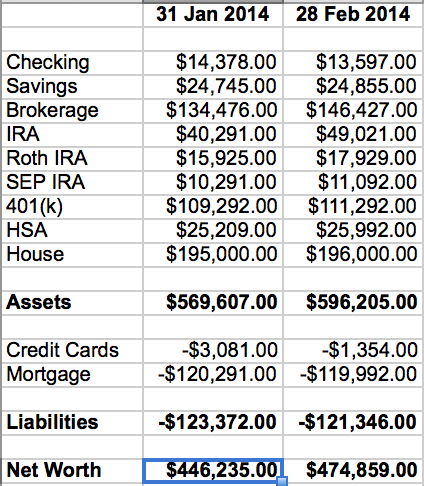 There's no extra information you need to add on this tab so simply copy the previous month's column and update the date at the top.
Averages Tab
The Averages tab is where you record your monthly spending.
This step is really important because you can't determine if you're financially independent without knowing how much you spend every year.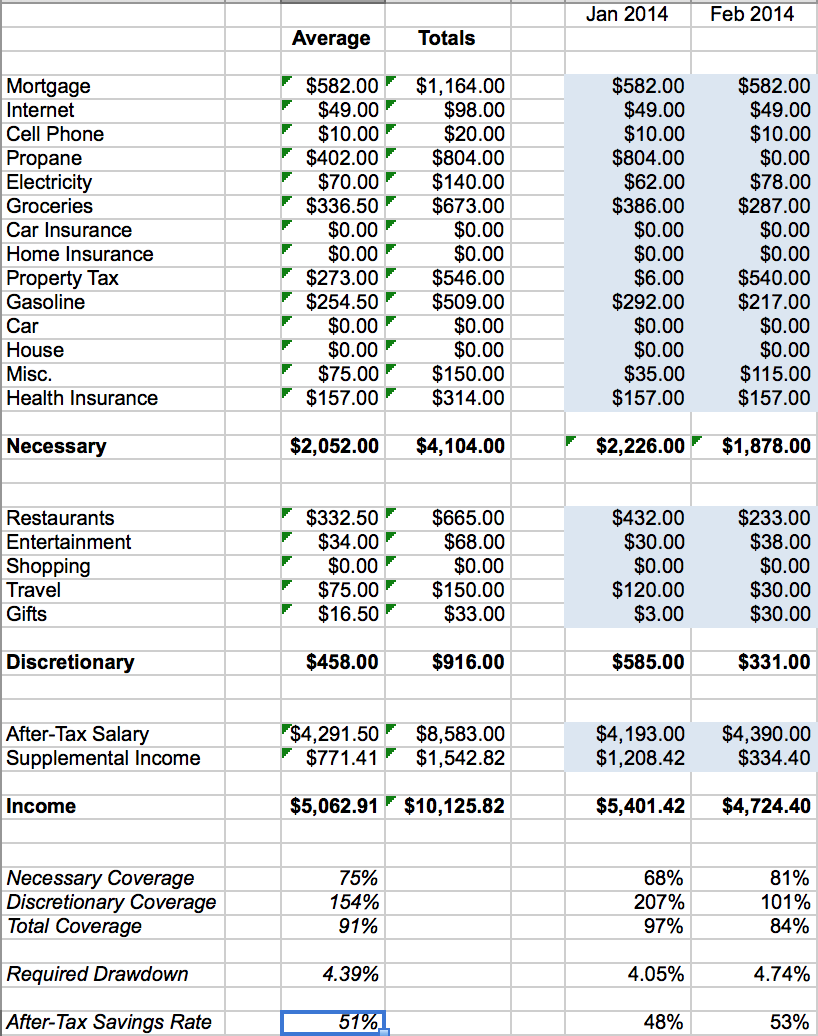 To make this step easier, I use Mint.com to categorize my monthly expenses.
You could do the same thing with Personal Capital but since I started using Mint before Personal Capital came out, I've just continued using it for this purpose.
There are a few interesting computations that occur on this tab that are worth explaining…
Necessary Coverage – This row shows what percentage of your essential monthly expenses are covered by your portfolio, using the withdrawal rate set on the FI tab.
Discretionary Coverage – This row shows what percentage of your discretionary expenses are covered by your supplemental income for the month.
Total Coverage – This row shows what percentage of your monthly expenses are covered by your portfolio and your supplementary income. When this column is consistently over 100%, you're financially independent!
Required Drawdown – This row shows what percentage of your portfolio you'd need to withdraw every year to sustain your monthly spending (based on the current month's spending). Once this value is consistently lower than a drawdown percentage you're comfortable with, you're financially independent!
After-Tax Savings Rate – This row computes your after-tax savings rate. Keep increasing this value and you'll be FI in no time :)
FI Tab
The FI tab is the final tab in the spreadsheet and also the most important.
Here, your monthly expenses are annualized and your FI number is calculated based on those expenses.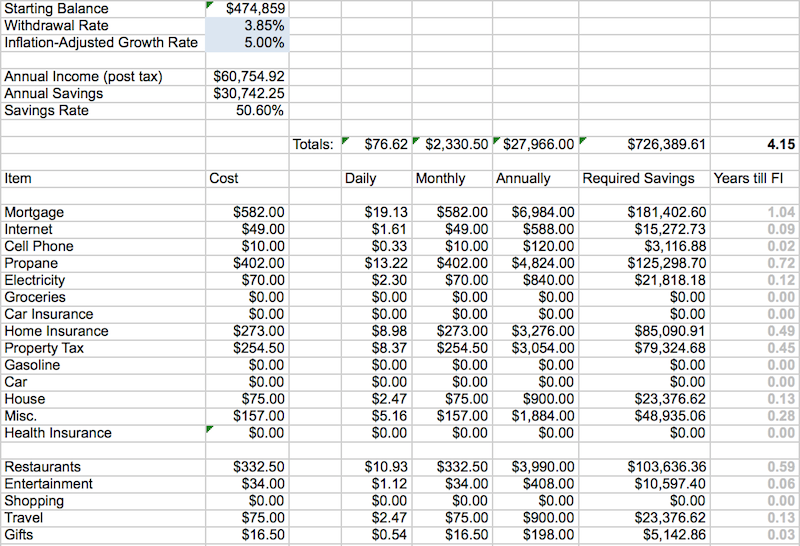 On this tab, you have to update the Withdrawal Rate and Growth Rate assumptions once but then you'll never have to update anything again.
The FI tab is great for motivating you to lower your expenses. When you see that it will take an extra 1.2 years of work to permanently fund your expensive cable TV package, you'll be more likely to decrease that expense or eliminate it completely.
Questions/Suggestions
I hope you get as much use out of this spreadsheet as I have.
If you have any questions or suggestions on how to improve the spreadsheet, please leave a comment below.
FI Laboratory
And if you want to easily chart out your progress to financial independence, check out the FI Laboratory software I developed!