After finishing the Lab Rat and Assumptions post, I was anxious to start experimenting with the example scenario so I decided to apply some of the optimizations described in a few of my previous articles to see how they affected the lab rat's journey to financial independence.
Triple Value of Income
In the Triple Value of Income article, I showed how to dramatically increase the value of your earnings by utilizing various tax-advantaged accounts and retirement incentives.
Let's assume after reading this article, the lab rat decides to take advantage of his employer's 5% 401(k) match. He knows he should contribute more than 5% though so he decides to fully max out his 401(k). This results in an annual contribution of $20,500 ($3,000 from his 5% employer match and $17,500 from his own pre-tax contributions).
Traditional IRA vs. Roth IRA – The Final Battle
Let's also assume he decides to max out his IRA during his working years. Using what he learned in the Traditional IRA vs. Roth IRA article, he decides to fund a Traditional IRA, rather than a Roth IRA, because he knows he can convert the Traditional IRA to a Roth IRA after FI, tax free. Smart guy.
Ultimate Retirement Account
After reading the Ultimate Retirement Account article, he realizes that a Health Savings Account (HSA) is the Clark Kent of retirement accounts (it's actually a super IRA, in disguise) so he decides to contribute the maximum of $3,250 to his HSA every year as well.
Bonus:
To keep track of your tax-advantaged accounts,
click here
to download a free copy of the spreadsheet I used on my own journey to financial independence!
Graph
The following graph shows how these optimizations affect his path to financial independence. The green line in the graph is constructed using the unaltered data of the Lab Rat and Assumptions post, the bars in the graph are constructed with the updated data described in this article, and the dashed red line represents the amount he needs to achieve FI.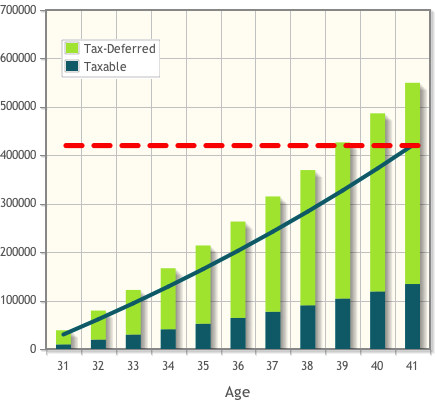 Retire Earlier
As you can see, it's possible to retire over two years earlier, simply by taking advantage of common retirement incentives and tax-advantaged accounts! It's pretty amazing that he can take years off of an already short working career without earning more, spending less, or taking on any additional risk!
Taxes
The reason these seemingly subtle changes have such a big impact is because they decrease the amount of money spent on taxes and therefore, increase the amount of money invested.
When we look at the graph representing the amount of tax paid in each of his working years, we can see he is paying nearly $5,700 less per year in the updated scenario than he was in the original scenario.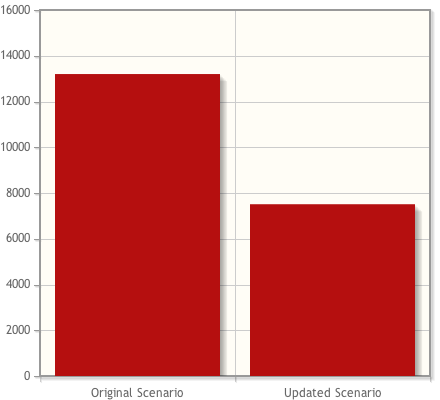 Combining these tax savings with his employer's 401(k) match, the lab rat is able to invest almost $8,700 more per year than he did in the unoptimized scenario.