I've written about many tax-avoidance strategies that future early retirees can take advantage of but I haven't ran the numbers to see how much of a difference these strategies could make to someone's journey to financial independence.
Until now…
Assumptions
The lab rat for this experiment is a 30-year old single person who:
Has no children and expects to live until 90 years old
Makes $60,000 per year
Resides in a state with no state income tax
Happily lives off of $1,400 per month ($16,800 per year)
Expects a 5% inflation-adjusted real rate of return on investments
Invests $30,000 per year into taxable investing account
Plans to utilize a 4% withdrawal rate (adjusted annually for inflation) during retirement
Invests in a 75% stocks/25% bonds portfolio of low-cost index funds (so transaction costs and management fees are negligible)
All of the calculations in this post are based on these assumptions so let's see how much earlier our lab rat could reach financial independence…
Triple Value of Income
In the Triple Value of Income article, I showed how to dramatically increase the value of your earnings by utilizing various tax-advantaged accounts and retirement incentives.
Let's assume after reading this article, the lab rat decides to take advantage of his employer's 5% 401(k) match.
He knows he should contribute more than 5% though so he decides to fully max out his 401(k).
This results in an annual contribution of $20,500 ($3,000 from his 5% employer match and $17,500 from his own pre-tax contributions).
Traditional IRA vs. Roth IRA – The Final Battle
Let's also assume he decides to max out his IRA during his working years.
Using what he learned in the Traditional IRA vs. Roth IRA article, he decides to fund a Traditional IRA rather than a Roth IRA because he knows he can convert the Traditional IRA to a Roth IRA after FI without paying any taxes. Smart guy.
Ultimate Retirement Account
After reading the Ultimate Retirement Account article, he realizes that a Health Savings Account (HSA) is the Clark Kent of retirement accounts (it's actually a super IRA in disguise) so he decides to contribute the maximum of $3,250 to his HSA every year as well.
Bonus:
To keep track of your tax-advantaged accounts,
click here
to download a free copy of the spreadsheet I used on my own journey to financial independence!
Graph
The following graph shows how these optimizations affect his path to financial independence.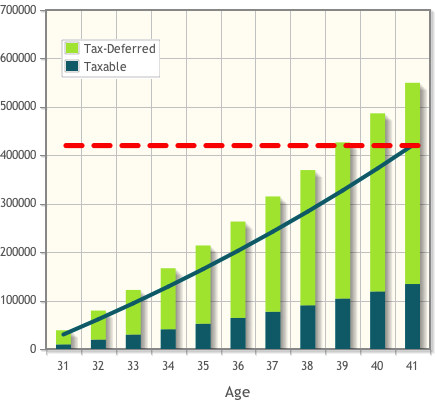 The green line in the graph shows what happens when the lab rat simply invests everything into a taxable investment account like he was before and the bars on the graph are what happens when he implements the optimizations described in this article. Finally, the dashed red line represents the amount he needs to achieve FI.
Retire Earlier
As you can see, it's possible to retire over two years earlier by taking advantage of these optimizations!
It's pretty amazing that he can take years off of an already short working career without earning more, spending less, or taking on any additional risk!
Taxes
The reason these seemingly subtle changes have such a big impact is because they decrease the amount of money spent on taxes and therefore, increase the amount of money that gets invested.
When we look at the graph representing the amount of tax paid in each of his working years, we can see he is paying nearly $5,700 less per year in the updated scenario than he was in the original scenario.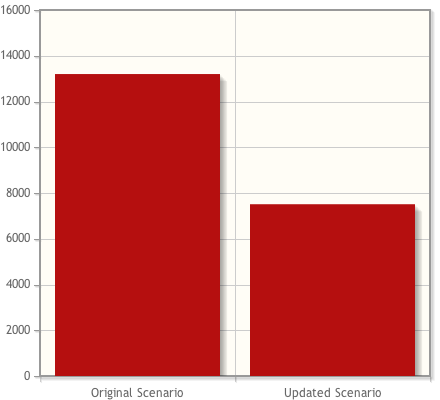 Combining these tax savings with his employer's 401(k) match, the lab rat is able to invest almost $8,700 more per year than he did in the unoptimized scenario.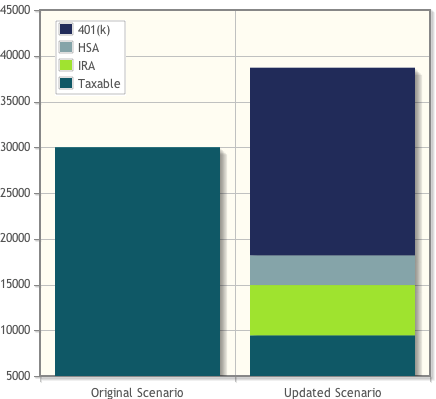 Eventual Taxation?
I can hear you ask, "Since most of his money is in tax-deferred retirement accounts, won't that money be taxed eventually?"
No, actually.
Thanks to his low living expenses and the fact that he won't be earning any more money from employment after he reaches FI, he'll be able to slowly convert his tax-deferred accounts (401(k) and Traditional IRA) into a Roth IRA, without paying any tax on the conversion (see the Traditional IRA vs. Roth IRA post for more information on this conversion).
Early Withdrawal Penalties?
Since most of his money in the updated scenario is in tax-advantaged retirement accounts, you may wonder if he will be forced to pay early-withdrawal penalties when he withdraws money from these accounts before standard retirement age.
No again!
Thankfully, there are many ways to access funds in retirement accounts before standard retirement age without paying any penalties!
Surprised?
I don't know about you but I was actually a bit surprised to see how much of an impact these changes had on this hypothetical scenario.
I know tax-advantaged accounts can really help supercharge your retirement savings, which is why I've been maxing out mine for years, but I didn't expect these tax-avoidance strategies to take over two years off of an already extremely short working career.
I'm looking forward to experimenting with more optimizations in future articles, in an effort to make the lab rat's career even shorter (and hopefully yours and mine as well).
To see an experiment where these strategies are applied to actual market returns, check out the real-time Guinea Pig Experiment!
What do you think? Were you surprised by the impact of these optimizations? Will it make you think twice about taking full advantage of retirement accounts in the future?
Related Post