Since I'm a professional software developer and also the Mad Fientist, I love good financial software and I'm always excited to try a new application when I find one.
For years, I've used Mint.com to track and categorize my spending. Since Mint is primarily a budgeting tool, it works great for those purposes but it isn't as great for portfolio management.
I've been searching for a better investment management tool for a long time and a few weeks ago, I finally found one – Personal Capital
Personal Capital
Personal Capital is a free online tool that allows you to keep track of all of your investment accounts in one place. It is very similar to Mint, in that it accesses and pulls data from all of your accounts automatically, but it is far superior in terms of how it presents your portfolio data.
Link Accounts
The first thing you need to do after setting up your free account is link all of your savings/investment accounts. If you are already a Mint user, you know how this works. I actually found that it was much easier to set everything up in Personal Capital than it was in Mint so that was a nice surprise.
Net Worth
After you get everything set up, you'll notice that Personal Capital presents you with a very attractive snapshot of your financial situation (note: these screenshots aren't of my own accounts so don't berate me for the ridiculous spending figures in the pictures!).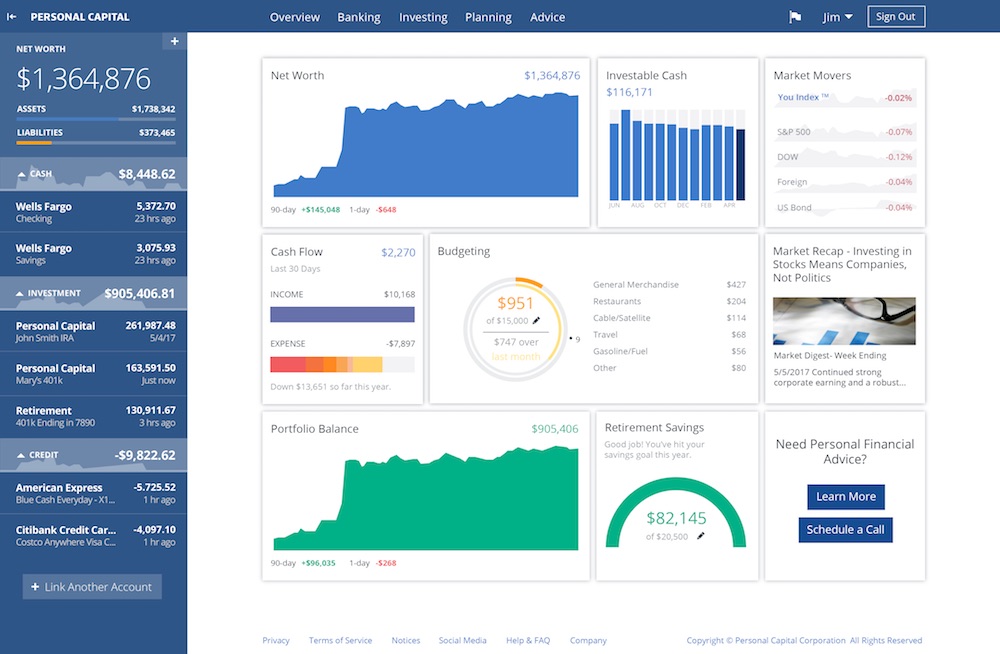 The main piece of information that is immediately presented is your net worth. For those of us on the path to financial independence, it's very motivating watching this value rise so I like that it is the first thing you see when you log in.
Cash Flow
The second section on the main screen focuses on cash flow. This section allows you to quickly see your savings vs. spending rates which, as we all know, is a key component to how quickly you can achieve FI.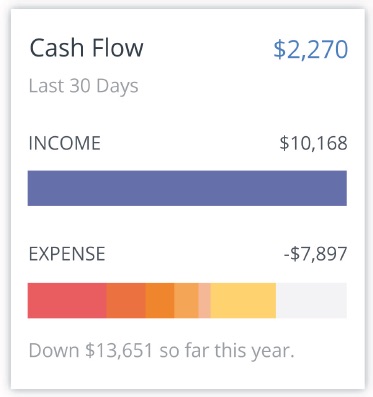 Index Comparison
Another section on the initial page provides a snapshot of how your portfolio performance compares to the performance of the major market indices.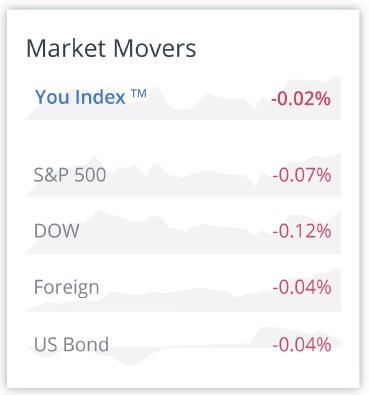 Allocation
On the Allocation page, you can see a very nice representation of your portfolio allocation.
On a separate screen, you can even set up your ideal allocation and then the software will highlight how much your portfolio deviates from your ideal allocation.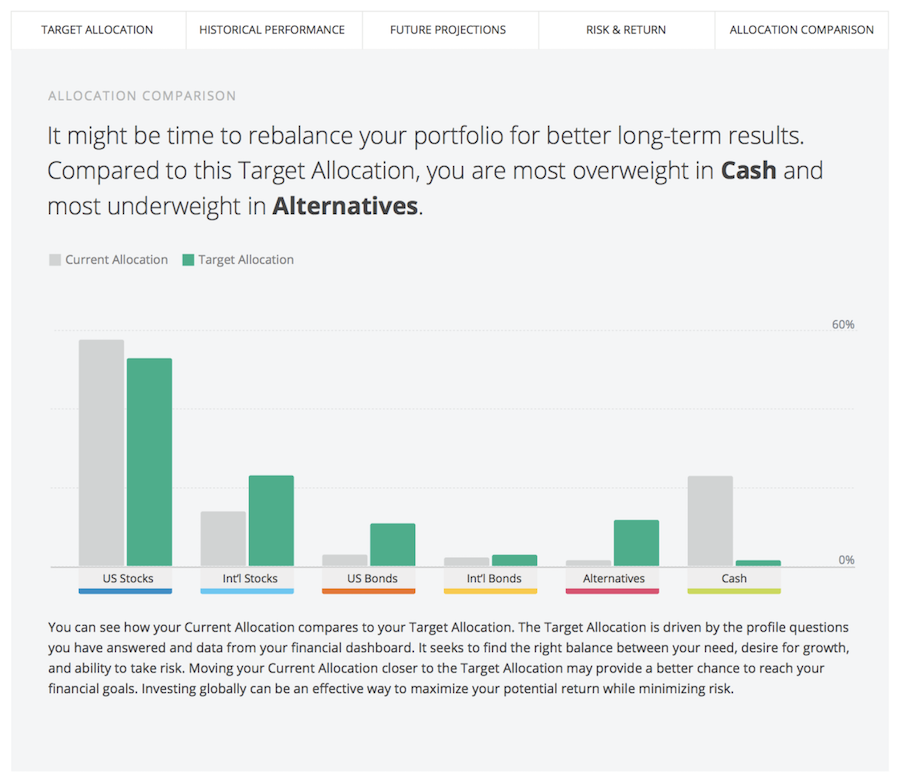 The software also allows you to drill down and see exactly how your portfolio is weighted within the various asset classes. For example, if I click on the U.S. Stocks section, I am then taken to a graph showing me how much of my portfolio is invested in large cap growth stocks, small cap value stocks, etc.
For someone who holds mainly broad-based index funds, it's nice to peek inside the funds to see how my portfolio is weighted.
Fees
Another excellent feature of the application is that it highlights exactly how much you are paying in fees every year.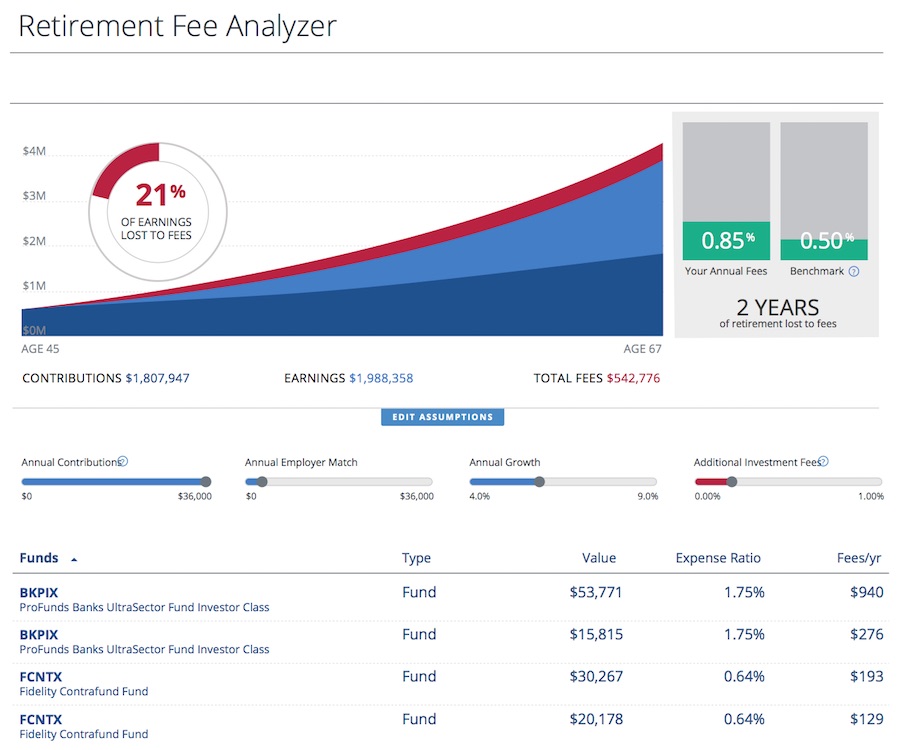 You can see in the screenshot above, it clearly presents the expense ratio and total fees per year for each of your investments.
The software also projects those costs out to show you how much of your portfolio will be lost to fees by the time you reach retirement age.
In the example screenshot above, an expense ratio of 0.85% will result in 21% of the person's earnings, or over two years of retirement, being lost to fees!
If only investment expenses were presented this way everywhere, people would be more diligent about minimizing their investment fees.
Mobile
In addition to the beautiful web interface, there are also nicely designed iPhone, iPad, and Android applications available that are free to download and use.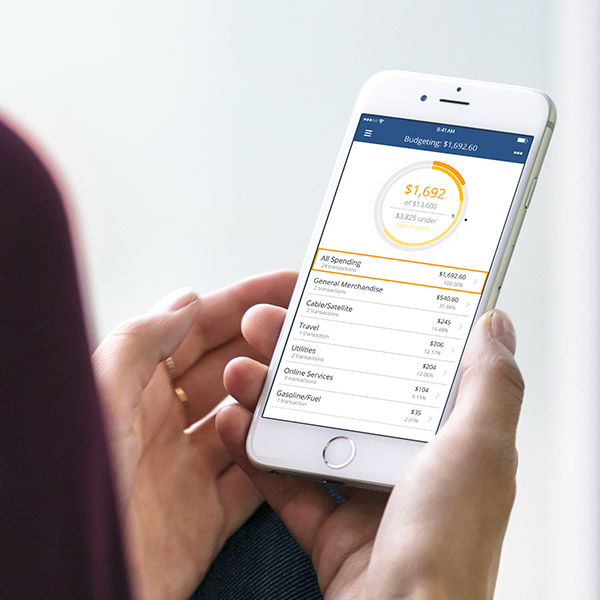 Advisor
So you may be wondering, like I was, how they could offer all of this amazing functionality for free.
Well, it turns out they make their money as financial advisors. You'll notice on some of the screens there are buttons to speak to an advisor so presumably, it's possible to sign up for an advisor and pay a fee to get help with managing your portfolio.
I prefer to do my own research and manage my own investments, so I won't be taking advantage of this service, but thankfully all of the tools I described above remain free to use anyway.
Personal Capital vs Mint
I've really enjoyed playing around with Personal Capital and I can see myself using it more than Mint in the future. It gives me most of the information I'm interested in and it displays it in an attractive way.
While Personal Capital is the clear winner overall, mint.com does offer superior budgeting functionality so I'll continue to use Mint to track and categorize my spending.
What do you think? Have you used Personal Capital before?
If so, are you as impressed by it as I am?
If you haven't used it yet and are interested in checking it out, sign up for a free account here and let me know what you think!
Related Post