A few months ago, I wrote a couple of articles about harvesting investment gains/losses for tax purposes.
In the Tax-Loss Harvesting post, I described how it can be beneficial to sell investments for a loss in order to use that loss to reduce your taxable income.
Conversely, in the Tax-Gain Harvesting article, I showed that in some situations it may be a good idea to sell your investments for a gain to increase your cost basis.
What I didn't tell you is how to structure your taxable portfolio so that you can easily sell the investments that have depreciated in some years and those that have appreciated in others.
Today, I will do that.
Cost Basis
When you buy an investment, the price you bought the investment for is the cost basis (note: the cost basis can be adjusted for stock splits, dividends, etc.).
The cost basis is important because it is used to calculate how much tax is owed when an investment is sold.
Accounting Methods
When you sell an investment, there are various accounting methods that can be used to determine the cost basis.
The three types that Vanguard offers are Average Cost, FIFO (First In, First Out), and Specific Identification.
To illustrate the differences between these various methods, let's create an example scenario to play around with.
Assume you purchase 100 shares of investment x in your taxable portfolio every year for three years. In year one, you purchase 100 shares of the investment for $10 per share. When you buy the investment again the following year, the price has risen to $20 per share so you buy 100 shares at $20 per share. Finally, in year three, the price has risen again and you purchase 100 shares of the investment for $30 per share.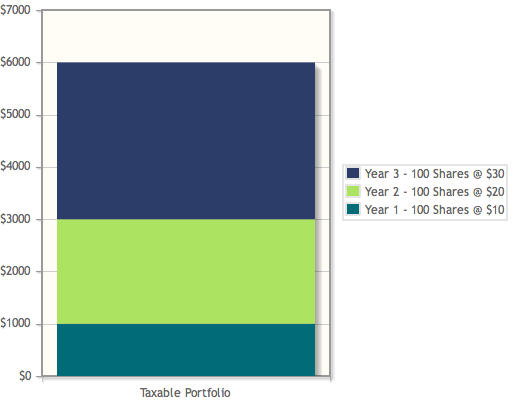 Let's take a look at what would happen if you decided to sell 50 shares using the three different accounting methods.
Average Cost
The Average Cost method simply takes all of your cost basis values and averages them to produce a single cost basis for all of your shares.
In the example provided, the cost basis using the Average Cost method would be $20 per share.
This is a reasonable way of doing things but what if the price of the investment falls to $20 in year five and you'd like to harvest those losses on the shares you bought in year three? With Average Cost accounting, you wouldn't be able to because your average cost basis would be $20 so selling 50 shares of the investment for $20 wouldn't result in any gains or losses.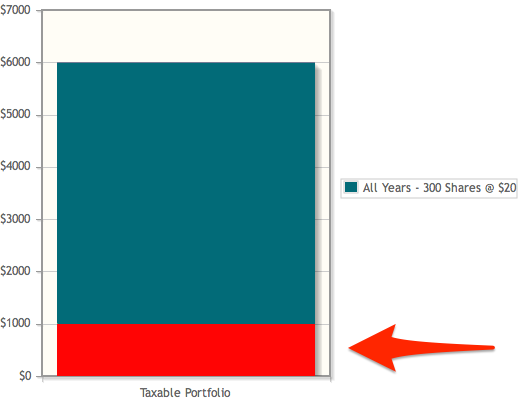 First In, First Out (FIFO)
The second method uses the cost basis of the oldest shares in your portfolio first (i.e. the shares that go in first are the first to come back out).
So again, in our example scenario, you still wouldn't be able to harvest your losses using the FIFO method either because if you sold 50 shares when the price dropped to $20, you'd actually create a taxable gain of $10 per share because you'd be selling the shares that you bought in year one for $10 per share!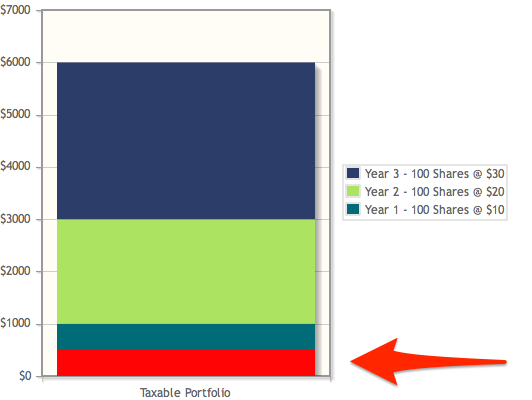 Specific Identification
Luckily, the final accounting method, Specific Identification, allows us to specify which specific shares we would like to sell.
To harvest our losses in year five when the price falls back to $20, we would simply specify during the sale that we would like to sell the shares that we bought in year three for $30 per share.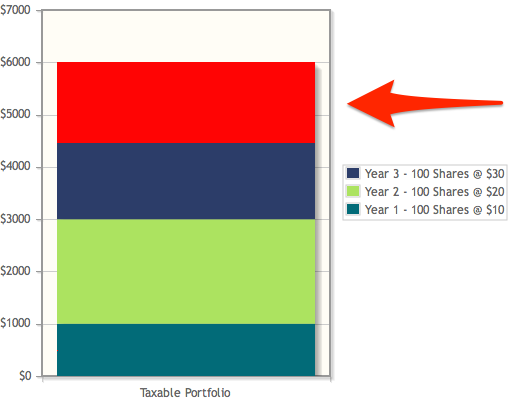 What if we instead wanted to harvest our gains when the price was at $20? The Specific Identification method would allow us to do this as well because we could simply choose to sell the shares that we bought in year one for $10 per share instead.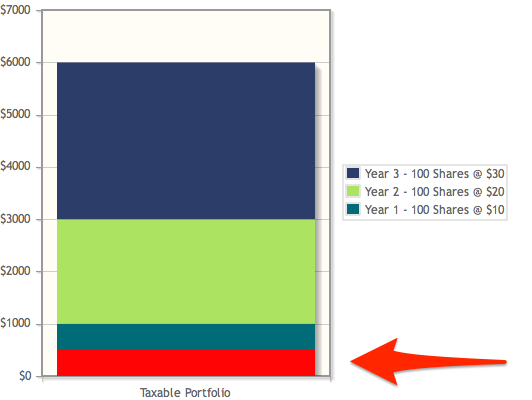 Changing Methods
At Vanguard, the default accounting method for mutual funds is the Average Cost method and the default for brokerage shares is FIFO.
Although you can change your cost basis method during the execution of a trade, it makes sense to update your default cost basis method for all taxable investments to the Specific Identification method.
To do this in Vanguard, you simply need to select the Account Maintenance option under the My Accounts tab and then click the Cost Basis Method link.
Taxable Accounts
Please note, you only need to worry about cost basis in your taxable accounts. Cost basis is irrelevant in tax-advantaged accounts (e.g. 401(k)s, IRAs, etc.) because gains within those types of accounts are not taxed when shares are sold.
Conclusion
As you've seen, Specific Identification of Shares is the best cost-basis accounting method for those wanting to minimize taxes.
Although it adds an extra step when selling your investments, having contol over exactly which shares you sell is well worth the additional effort.
Related Post