I've made a big decision. I plan to transfer the majority of my taxable money to Betterment.
For those who haven't heard of it, Betterment is an online financial advisor and portfolio manager that has been increasing in popularity over the last few years.
Since my decision to hand over the keys to someone else will likely come as a big surprise, I'll start this story from the beginning.
Chatting with the CEO
About a year ago, I attended a financial blogger conference in St. Louis.
On the first night, I was having a beer with none other than Jim Collins from JLCollinsNH.com when a guy sat down next to me and started chatting to us.
After talking for a while, I discovered that the guy was actually the founder and CEO of Betterment, Jon Stein. We had a very interesting discussion and it was evident after speaking with him that he was doing some really exciting things within the personal investing space.
Office Tour
During our conversation, Jon invited me to visit their office the next time I was in New York City. Since I was really impressed by him and his company after our chat, I took him up on his offer when we went to NYC last November for the New York marathon (Side Note: Congratulations to my wife for dominating her first marathon; she finished in an impressive 4:17:57!).
When I arrived at their Manhattan office, I was greeted by Katherine (who I also met in St. Louis) and was then introduced to their Director of Behavioral Finance and Investing, Dan Egan.
As I described in my Cognitive Bias post, people have a tendency to sabotage their own investments so it's great that Betterment has a behavioral economist on hand to figure out ways to help save you from yourself.
According to this article, the behavior gap of Betterment customers (Behavior Gap = Investment Returns – Investor Returns) is 1/5th of that of a ordinary investors so Dan and his colleagues must be doing something right.
Next, I met one of their in-house tax experts, an ex-tax lawyer named Boris. I really enjoyed bouncing some of my ideas off of him and it was interesting to hear what Betterment was doing to help minimize their customers' taxes.
Finally, after meeting a few software developers, chatting with Jon again, and talking to a few other employees, I left with an even better impression of the company than I had when I went in.
The Software
Once I got home from New York, I did some more research into Betterment and I played around with the demo version of their software.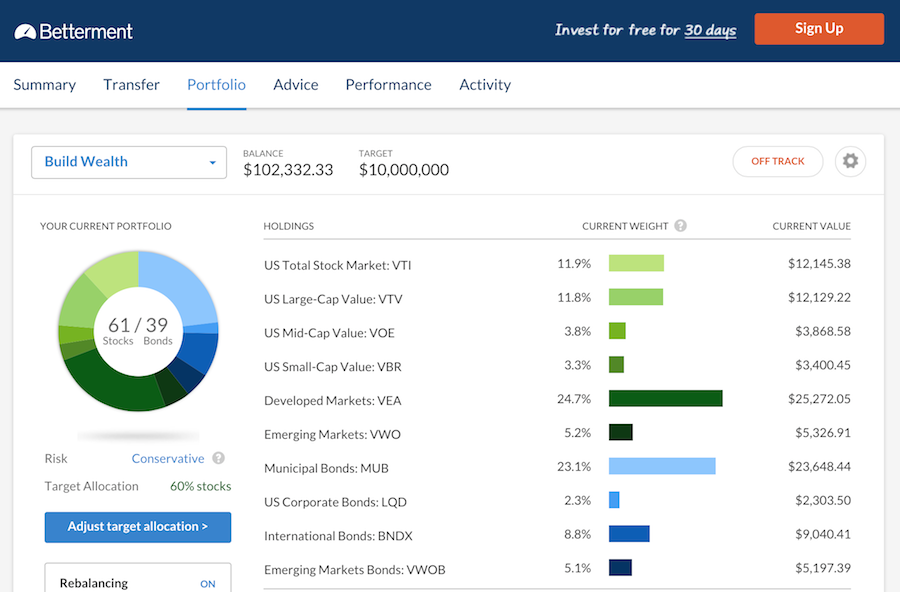 Screenshot from Betterment Demo App
The application looked nice and the fact that their portfolio consisted of low-cost index funds (mostly from Vanguard) was great to see but I was more impressed by the things happening behind the scenes.
Betterment's smart rebalancing feature (see this article for more information) was particularly appealing because although I plan to remain primarily in equities, I want to diversify a bit more to take advantage of all the benefits diversification and rebalancing provides (if you want to get dirty with some financial theory, take a look at this math-heavy post I wrote about diversification a couple years ago).
Even though I was very impressed with both the company and their software, I still wasn't ready to invest my money with them (which is why I haven't written anything about them yet).
Although their fees are among the lowest in the space, I wasn't sure they offered enough extra value for someone like me. Sure, it seemed like a great service for a beginner investor or someone who just isn't interested in managing their money but I'm the MF-ing Mad Fientist (MF squared) so surely I can do better on my own.
A few months ago, however, Betterment released a feature that changed my mind.
Tax Loss Harvesting+
As I discussed in my Tax-Loss Harvesting article, you can potentially save a lot of money every year by strategically selling and then rebuying investments that decrease in value and then using those losses to lower your taxable income.
Implementing a tax-loss harvesting strategy can get a bit complicated though, since you have to keep an eye on the markets, sell investments that have decreased in value, buy alternative investments temporarily until 30 days have passed (to avoid wash sales), and then rebuy your initial investment.
Wouldn't it be great if a software algorithm did all of that for you?
That's exactly what Betterment's Tax-Loss Harvesting+ (TLH+) does. Rather than get into all of the details on how Betterment does tax-loss harvesting better than anyone else, take a look at this comprehensive white paper to read all about it.
TLH+ Performance
If you've been following the Guinea Pig experiment over the last few months, you'll know that the markets haven't really been doing anything too interesting. Looking at the price of VTI (Vanguard's total stock market ETF), the price has just bumped around the $100 per share price so there really haven't been any standout opportunities for tax-loss harvesting. In fact, I have harvested exactly $0 worth of losses in my personal portfolio in 2014 :(
To find out how Betterment's TLH+ has compared to my abysmal year-to-date harvesting, I contacted Boris (Betterment's tax expert that I mentioned earlier) to get some data. He was kind enough to do some digging for me so here's what he had to say:
I only looked at accounts with 70% stock allocation or higher, which is our average
allocation (with heavy bond allocation, TLH benefits quickly go to almost zero, since bonds aren't that volatile). We launched in late June, just about 2 months ago.

For accounts >50k but <100k, average harvested to date = $425 For accounts >100k but <200k, average harvested to date = $716 For accounts >200k but <300k, average harvested to date = $1158 For accounts >300k but <400k, average harvested to date = $2089 For accounts >400k but <500k, average harvested to date = $2609 For accounts with 500k+, average harvested to date = $4282.
How exciting is that?! Considering I've harvested exactly $0 of losses this year, the fact that TLH+ has harvested thousands of dollars worth of losses shows the power of letting an algorithm do something that humans couldn't (or wouldn't want to) do!
Theoretical Scenario
Let's say that someone with a $150,000 portfolio only harvested the average amount for that range ($716). Assuming this person is in the 25% marginal tax bracket and uses those losses to lower his/her taxable income, those harvested losses would result in $179 less taxes.
Compare this to the total added cost of using Betterment's services for those two months and you see how going with Betterment is a very attractive proposition.
The extra losses harvested over the first two months have more than paid for the added fee, plus you still get all the additional rebalancing benefits that I previously discussed.
Why Change Now?
Since I'll soon be living in Scotland but will still be earning U.S. dollars, I plan to plow the majority of paycheck (i.e. what's left after maxing out my retirement accounts) into my taxable investing account every month so it will be great to set up automated contributions and know that my asset allocation is being taken care of properly by the smart rebalancing method mentioned above.
When I eventually leave my job for good and start withdrawing from my taxable accounts, Betterment will help me perform withdrawals as efficiently as possible (as I described in the Specific Identification of Shares article, it matters which shares get sold when you withdraw from your accounts and Betterment's TaxMin method sells shares in the correct order automatically).
All of these facts have convinced me to finally pull the trigger and move my taxable accounts to Betterment.
My Plan
Since I want to transition to Betterment as efficiently as possible and keep additional costs to a minimum, here is my plan:
Invest House Proceeds
When our house finally sells, I'll use the proceeds from that and some additional cash I have laying around to open a taxable account at Betterment.
Move Taxable Money to Betterment
In order to get the remainder of my taxable money to Betterment, I'll have to sell some investments that have appreciated in value. I obviously don't want to pay any capital gains taxes in the process so I'll need to do this gradually and will probably wait until I leave my job so that I can take advantage of a 0% long-term capital gains tax rate.
Leave my Tax-Advantaged Accounts Alone
I don't need to do any rebalancing or tax trickery with my tax-advantaged accounts so rather than incur an additional fee on that money, I'm just going to leave it all where it is.
Simplify Tax-Advantaged Accounts
Since I won't be moving any of my retirement accounts over to Betterment, I'll need to make sure nothing in those accounts will trigger wash sales. Luckily, most of my current funds differ from the funds Betterment uses so there's not too much work to do here. I'll just do a bit of simplifying so that I can easily adjust my holdings if Betterment changes their basket of ETFs.
Conclusion
I'm excited to take advantage of the services Betterment offers (there are many other benefits I didn't even mention so check out Jon's response on Quora for more).
Since only the taxable portion of my portfolio will be invested there, the additional fees I'll have to pay will be a tiny percent of my total portfolio but I will still be able to take full advantage of the automated rebalancing, tax-loss harvesting, and other services Betterment provides.
Thoughts?
Moving my taxable accounts to Betterment is a huge departure from how I currently handle my investments so I'm interested in hearing your thoughts.
Are you as impressed by Betterment as I am? Are there other robo-advisors you are considering or do you plan to continue managing your investments yourself? Anyone out there have any first-hand experience with Betterment?
I know this may be a controversial move so I've included a lot of links in this post so that you can see all the information that went into my decision. I'm really interested in hearing what you have to say though so please let me know in the comments below.
Full Disclosure: When I visited the Betterment offices, I was given a free t-shirt. Also, if you sign up to Betterment via this link (and some of the others within the post), I will earn a commission. Although I look damn good in the t-shirt and I love earning money, neither the t-shirt nor the potential commission is why I am recommending Betterment (otherwise, I would have written this article last year, before I decided to use them myself).
Related Post