Since I'll be quitting my job this year, I want to take full advantage of my retirement accounts while I still can.
To do this, I'm bumping my contributions for the first part of the year so that I can max out my accounts as soon as possible.
This got me thinking about whether front-loading tax-advantaged accounts is a good thing to do every year.
There are a few reasons it likely is…
Stocks Go Up (Usually)
The S&P 500 has risen over 9.5% annually, on average, since 1928.
While it hasn't been a steady march higher, the overwhelming trend is upwards so it is reasonable to assume that investing earlier in the year is better than investing later, since you're more likely to capture a bigger piece of that upward movement (this is one of the main reasons lump-sum investing is better than dollar-cost averaging).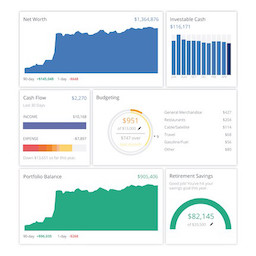 Calculate Your Net Worth
Automatically calculate your net worth, asset allocation, and investment fees with this free portfolio manager!
Get Started
Postpone Taxes Until Later in the Year
Another benefit of front-loading your retirement accounts is that you defer your taxes until later in the year.
If the majority of your pre-tax paycheck goes to tax-advantaged accounts, there's very little income to tax so you don't have to give the government as much of your money during the first part of the year (contributing to retirement accounts doesn't affect your FICA taxes though so you'll still have to pay the full amount for Social Security and Medicare each month).
You'll end up paying the same in taxes by the end of the year but the money you save on taxes early in the year can be invested in your portfolio and can grow for you rather than for the government.
More Tax-Free Growth
Front-loading also shields more of your investment earnings from taxes, since you'll get more of your money into tax-protected accounts sooner.
Leave Your Job
If you lose your job or decide to quit during the year and you haven't front-loaded, you may not be able to max out your contributions for that year.
As I've shown previously, maxing out your retirement accounts can help you retire years earlier so front-loading helps ensure that you take full advantage of those accounts every year.
Final Savings Boost Before Retiring
If you're like me and are preparing for your last year of full-time employment, it may be possible to eliminate all of your federal income taxes during your final year. If you calculate how many months it would take to max out your retirement accounts and then only work that many months during your final year, you could avoid federal income tax altogether.

A Warning About Front-Loading
One caveat: You should talk to your HR department before front-loading any accounts that receive an employer match. Some employers only match a certain percentage when the employee also contributes the same amount. So it's possible front-loading would stop you from obtaining an employer match during the final months of the year (which would be bad).
I luckily receive the same employer contribution whether I personally contribute or not, so I don't need to worry about this, but you should check before changing your monthly contributions.
If you do need to contribute every month to receive the match, you could always front-load the bulk of your contributions but leave enough of your allowance to contribute the match percentage for the rest of the year (you'll probably want to also leave a bit of room to account for any raises you may get during the year).
Conclusion
The benefits of front-loading are compelling so I plan to front-load my retirement accounts from now on.
What do you think? Will you start front-loading your tax-advantaged accounts? Is anyone out there already doing it?
Update: Front-loading has resulted in an additional 1.46% return after two years for the Optimized Guinea Pig in the Guinea Pig Experiment!
Related Post