Many people have written about Traditional IRAs and Roth IRAs but when asked which one is better, the common response is, "it depends".
One of my objectives as the Mad Fientist is to analyze common investment vehicles and financial advice, focusing on how they pertain to someone pursuing FI, and use what I learn to create optimal strategies to help both you and I reach financial independence as quickly as possible. A few months ago I investigated HSAs in the Ultimate Retirement Account article and today, I'm going to tackle the Traditional IRA vs. Roth IRA debate and show that one actually is better than the other for future early retirees.
Types of Retirement Accounts
Before I get into the specifics, let me first recap the two major types of retirement accounts.
Tax-Free Contribution Accounts
The most common type of retirement account is one in which you use pre-tax dollars to fund the account, the investments grow tax free, and the withdrawals from the account are taxed as ordinary income. Traditional IRAs, 401(k)s, and 403(b)s are all examples of this type of retirement account.
Tax-Free Withdrawal Accounts
A tax-free withdrawal account, on the other hand, accepts after-tax dollars, grows tax free, and then allows completely tax-free withdrawals. A Roth IRA is an example of this type of account.
They Both Sound Good
Both are good because they provide some tax benefits that allow your investments to grow faster than they would if they were invested in a normal taxable account.
When choosing between a Traditional IRA and a Roth IRA, you are effectively choosing when you want to pay tax on your money. If you decide to go with a Traditional IRA, you pay your tax when you withdraw the money and if you go with a Roth IRA, you pay the tax up front.
There are some other differences between the two types of accounts but rather than go into it all, feel free to check out this article for a nice comparison.
Get the Best of Both Worlds
What I'm going to show you today is that, with a little bit of planning, it's possible to get the best of both worlds!
Here's the strategy…
Step 1: Contribute to a Traditional IRA During Your Working Years
While you are working, your tax rate will likely be higher than it will be after FI so it makes sense to shield as much of your income from the taxman as possible by contributing to a tax-free contribution account.
Step 2: Slowly Convert Traditional IRA to Roth IRA
Once you begin your early retirement, you will likely have less taxable income than you did when you were working so use this period to convert your Traditional IRA to a Roth IRA.
IRA conversions count as ordinary income so to obtain completely tax-free conversions, you should convert an amount equal to your deductions and exemptions (assuming you have no other ordinary income).
During this time, you can live off of your long-term capital gains and dividends, which will be taxed at 0% if you are in the 10% or 15% tax bracket.
Step 3: Enjoy Your Completely Tax Free Retirement Money
When you reach 59.5, your conversion should be complete so you'll be able to withdraw money from your Roth IRA completely tax free!
How is This Possible?
You may be wondering why everyone doesn't do this? Well, there are a few reasons this strategy is only feasible for early retirees.
Low Living Costs
Most early retirees live on a modest amount of income that comes from tax-efficient sources like long-term capital gains and dividends so they are able to use their standard deductions and exemptions for the conversion.
Long Conversion Timeframe
Since conversions from a traditional IRA to a Roth IRA are taxed as ordinary income, it is beneficial to spread the conversion over a large timeframe so that you don't increase your taxable ordinary income too much in any given year.
Because most people work full time until they reach retirement age, any amount converted would increase the amount of tax they have to pay. An early retiree, however, can use their deductions and exemptions each year to gradually perform the conversion, tax free.
Check out this tax calculator to see how much you can convert (ordinary income) and earn (long term capital gains, dividends, etc.) before you have to pay any tax. I plugged in $10,000 of ordinary income, to account for the Roth IRA conversion, and then $36,000 divided between long-term capital gains and dividends and it correctly computed $0 of tax owed.
So What's the Big Deal?
An example will help clarify how this works and will highlight how much money this could save you over the long run.
Imagine two 30-year-olds who hope to retire by the age of 40. To make things simple, assume they each start with nothing, make $60,000 a year, and can happily live off of $18,000 per year.
Investor A decides to max out his Roth IRA between now and when he retires at 40. Investor B instead decides to max out his Traditional IRA and then slowly convert it to a Roth IRA after he turns 40. Both invest all additional income into taxable accounts.
The following graph shows the value of the accounts of these two investors.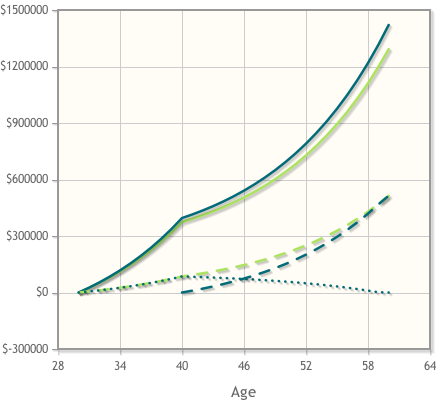 Investor A is represented by the light green lines and Investor B is represented by the dark green lines. The solid lines represent the investors' normal taxable accounts, the dashed lines represent the investors' Roth IRA accounts, and the dotted line represents Investor B's Traditional IRA account.
As you can see, at age 40, both investors stop contributing to their accounts and begin withdrawing $18,000 per year from the taxable accounts. Investor B also begins converting his Traditional IRA into a Roth IRA at this time. Thanks to the fact that he is able to live on a reasonable income and has time to slowly convert the Traditional IRA into the Roth IRA, he is not taxed on the conversion and therefore ends up having exactly the same amount of money in his Roth IRA as Investor A does when they both reach standard retirement age.
What you'll notice though is that Investor B actually has quite a bit more in his taxable account. Since he was able to invest pre-tax money in his IRA when he was working, he had more money to invest in the taxable account during his 30s and as a result, will end up with over $100,000 more than Investor A when he reaches retirement age!
It's pretty incredible that a simple choice between two good options could result in a six-figure difference in retirement savings!
Why Stop There?
In the Ultimate Retirement Account article, I described how an HSA could be used as a completely tax-free retirement account.
In this article, I've shown how a Traditional IRA could also become a completely tax-free retirement vehicle when combined with a Roth IRA.
What about the other major retirement accounts like the 401(k) and 403(b)? Yes, they can also potentially become completely tax free!
Tax-Free 401(k)
Since you can easily convert your 401(k)/403(b) to a Traditional IRA after you separate from your employer, it is just one extra step to get your 401(k)/403(b) money into a Roth IRA using the tax-free method described above.
Conclusion
To summarize the strategy, max out your tax-free contribution accounts while you are working, use your early retirement years to slowly convert those accounts into tax-free withdrawal accounts, then enjoy your standard retirement years knowing that most of the dollars you spend are completely tax free!
So, what do you think? Will this strategy work for you? Do you expect your income after FI to be low enough to allow for completely tax-free conversions?
Related Post