I've been looking forward to writing this article for a long time.
As you know, we've been running an experiment here to see how all the strategies I write about can actually impact someone's journey to financial independence.
The Guinea Pig experiment follows two people with identical incomes and identical spending on their journey to financial independence, using real-time decision-making and market returns.
This is the first annual update of that experiment and due to the way taxes were computed, it is the first apples-to-apples comparison since the experiment started at the beginning of 2014.
To see the latest Guinea Pig numbers, head over to the Guinea Pig Experiment homepage!
Net Worth
Optimized GP: $40,159
Normal GP: $30,602
The Optimized GP has nearly $10,000 more than the normal GP after just one year, even though both had exactly the same amount of spending money, invested in the exact same fund, and had the same salary!
This is why I don't understand when people spend a bunch of time and energy trying to "beat the market" (while increasing their risk exposure significantly in the process) but completely ignore taxes! Both the Normal and the Optimized GP were invested in the same fund, and therefore had nearly identical risk but the Optimized GP had 31% more money by the end of the year!
Graphs
Here are the FI Laboratory graphs for the two scenarios in 2014.
If you haven't started tracking your own progress yet, sign up for a free Personal Capital account to automatically calculate your net worth, monthly spending, etc. and then plug those numbers into the FI Laboratory to see if you can keep up with the Guinea Pig.
Normal Scenario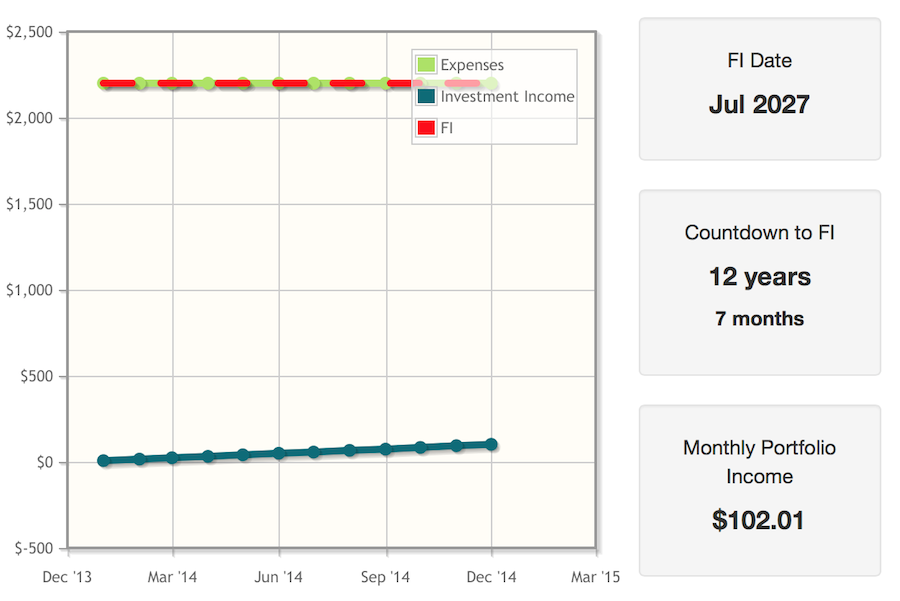 As you can see, the Normal GP did a great job this year and has built up a portfolio that could provide over $100 of passive income every month, potentially for the rest of his life! Not bad for one year of savings!
Optimized Scenario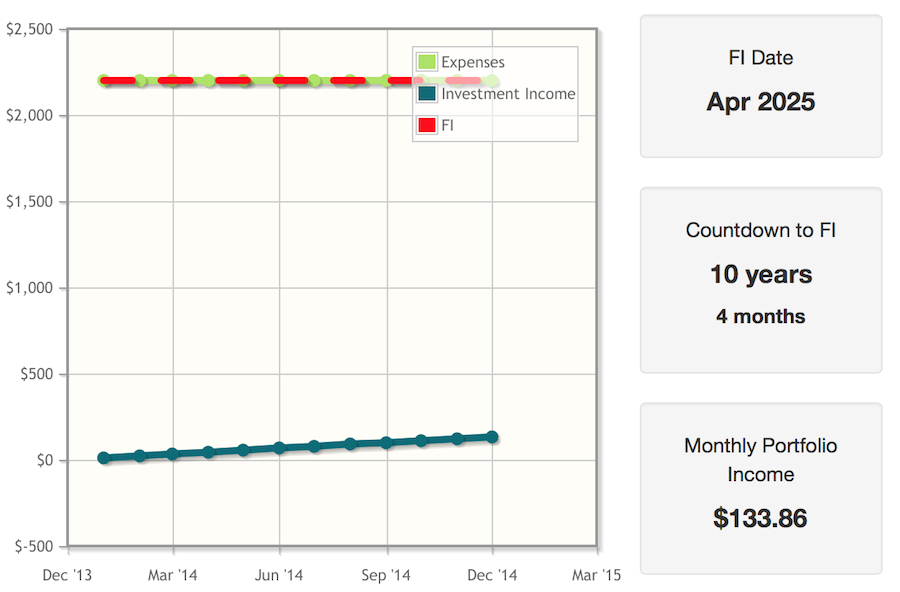 The Optimized GP did even better! He will reach financial independence over two years sooner than the Normal GP, all thanks to the smart moves he made throughout the year!
Breakdown
Since I record all of this information in a custom spreadsheet, it was easy for me to run some calculations to see how much each of the strategies utilized by the Optimized GP affected the total returns.
Speaking of spreadsheets, I just cleaned up the spreadsheet that I've used on my journey to financial independence so if you'd like to check it out and use it on your own journey, click here!
Let's take a look at how this 31% increase was actually achieved…
401(k) Match
The first thing that the Optimized GP did was take advantage of his employer's 3% 401(k) match.
This may seem like an obvious move to many of you but there are many Americans who leave this free employer money on the table.
Simply by taking advantage of the employer 401(k) match, the Optimized GP has an additional $2,871 by the end of the year, or an additional 9.38%!
401(k) Max
The Optimized GP also decided to max out the rest of his 401(k). If you're thinking to yourself that maxing out the 401(k) is a stupid move since the GP will need to access that money long before traditional retirement age, check out this post I wrote over at my buddy Jim Collins' site. There's a nice and easy way for early retirees to tap into that money early without paying any fees (or taxes, if you plan properly).
This move resulted in an extra $4,109 by the end of the year, or an extra 13.43%!
Since investing the extra $15,340 in his 401(k) lowered his taxes, the Optimized GP was able to invest those tax savings throughout the year and therefore increased his net worth instead of giving the government more money.
Health Savings Account
After reading my Ultimate Retirement Account article, the Optimized GP decided to max out his Health Savings Account. As described in that article, the HSA is actually best used as a retirement account so how much of a difference did this move make?
Contributing $3,250 to his HSA resulted in an additional $989, or 3.23%.
Traditional IRA
Thanks to my Traditional IRA vs. Roth IRA article, the Optimized GP decided to max out his Traditional IRA as well.
This move resulted in an extra $1,455, or 4.75%, by the end of the year.
Front-Loading
As I described in my Front-Loading article, it makes sense to max out your retirement accounts during the beginning of the year so that your tax savings have more time to grow. This won't be beneficial every year but since the market's overwhelming long-term trend is up, it's beneficial more often than it's not so it's a good long-term strategy.
Since the market just marched upwards again last year, 2014 was a perfect year for front-loading and it resulted in an additional $133.
I can hear many of you scoffing at an additional 0.44% return but to put this in perspective, I got berated on the forums after I suggested in this article that the automated rebalancing and tax-loss harvesting Betterment provides may be worth the additional 0.15% annual fee they charge.
Taxes
Thanks to his smart moves, the Optimized GP was able to pay over $6,500 less in taxes than the Normal GP.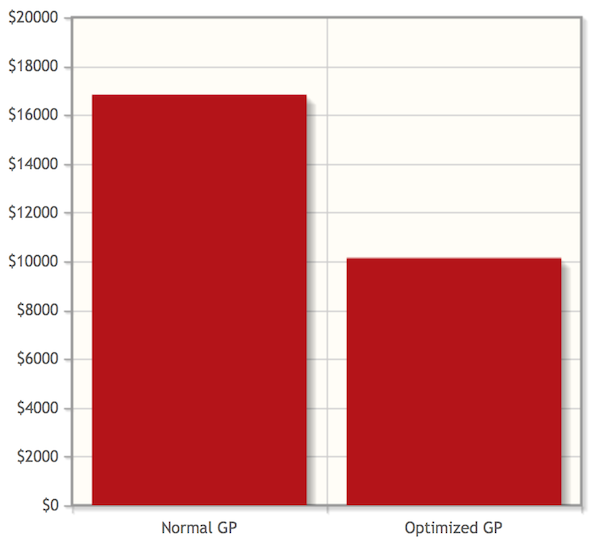 Contributions
These tax savings, combined with the employer 401(k) match and the additional dividends received, resulted in nearly $9,000 in extra investment contributions during the year.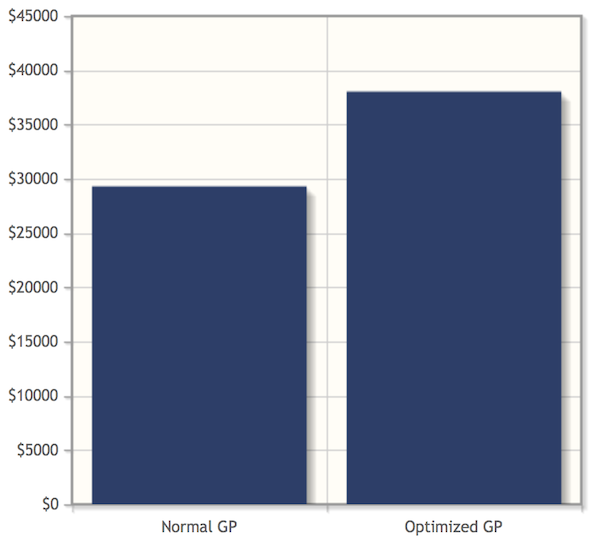 Conclusion
I'm sad we weren't able to do any Tax-Loss Harvesting in 2014 but I'm extremely pleased with how the year turned out for the Optimized GP and was actually a bit surprised by how much of a difference the optimizations made.
The Optimized GP was able to reduce his time to FI by over 2 years and increase his net worth by an extra 31%, just by being a Mad Fientist reader!
I'm excited to see what 2015 holds for the Guinea Pigs and I look forward to researching additional optimizations to apply to these scenarios!
How About You?
How did you compare to the Optimized GP in 2014? Were your FI Laboratory graphs as impressive?
Related Post