One of my primary goals as the Mad Fientist is to discover interesting and innovative ways to reach financial independence sooner. Since a lot of the strategies and tactics I describe are best supported with examples, I usually find myself writing the same example setup and discussing some of the same assumptions over and over again. Rather than do that with every article, I would rather have a single post to refer to instead.
Having a single post would also allow you to challenge and discuss the assumptions in a place where future readers would be more likely to see it. For example, on the Shortest Path to Financial Independence post, people quite rightly challenged my assumption that 4% is a safe withdrawal rate for retirement accounts. When writing a new article that references the 4% withdrawal rate again, it would be beneficial if those types of comments were visible to future readers instead of being buried deep in the comments of another post.
I also think it's important to have a consistent example scenario to work with. If I use the same scenario in each post, I will be able to quantitatively compare the benefits of the various strategies I describe.
This post will serve as a summary of all the assumptions I use in my examples and will also describe the example scenario itself. I will continue to add to this post and update it, as necessary.
Your feedback is very important so please let me know if you disagree with any of my assumptions or can think of any reasons to change the example.
Assumptions
Withdrawal Rate
The first assumption I'll discuss is the 4% safe withdrawal rate. This tends to be one that is frequently contested so I'd like to reference some arguments for and against the 4% rule.
For
– The Trinity Study
– Mr. Money Mustache
– JLCollinsNH
Against
– Financial Mentor
I agree with both MMM and Jim that the 4% figure is actually quite conservative for early retirees (see articles above for reasons why) so I am happy to assume a 4% withdrawal rate.
Rate of Return
In all of my examples, I assume an after-inflation portfolio return of 5%. By using the real rate of return, I don't have to factor another figure into my calculations to account for inflation. By picking a reasonably conservative figure of 5%, I can also assume this figure accounts for fees and transaction costs, without having to explicitly factor those values into the calculations.
Example
Age
Our lab rat is a 30-year-old male who is going to live to be 90, lucky guy.
Income
He is currently working and makes $60,000 a year. I chose $60K mainly because 60 is a highly composite number that is evenly divisible by many other numbers (i.e. 1, 2, 3, 4, 5, 6, 10, 12, 15, 20, 30, 60) so it will work nicely with percentages.
Taxes
If we assume that he is single with no children, he should be taxed $8,600 per year on his wages, for a marginal federal tax rate of 25%.
Based on his income, he will also need to pay $4,600 per year in FICA tax for Social Security and Medicare.
To make things simple, assume he lives in a state that does not collect state income tax.
Spending
He is able to happily live off of $1,400 per month, or $16,800 per year. This level of spending corresponds to a before-tax savings rate of 50% and an after-tax savings rate of around 64%.
Investing
After spending and taxes, he invests the entire surplus of $30,000 per year into a portfolio consisting of 75% stocks and 25% bonds. To limit transaction costs and management fees, he invests in a total stock market index fund and a total bond market index fund to obtain the 75/25 balance.
All investments are in taxable investment accounts.
FI
He is starting from scratch on his path to FI at age 30 so he has no savings but no debts either. Using the assumptions described above, here is a graph* illustrating his path to FI: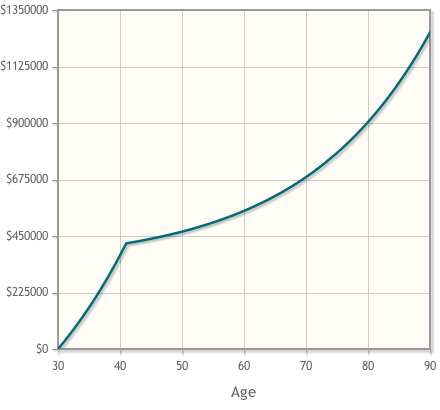 It's pretty amazing that even starting from scratch on his 30th birthday, he should be able to reach FI before he turns 41 and will leave over a million of today's dollars to his heirs after he's gone.
I'm looking forward to applying some of the optimizations I've already written about to this example scenario to see how much sooner he could reach FI.
Let me know what you think.

* The graph represents a simplified example of portfolio growth. In reality, a mixture of stocks and bonds would not produce consistent 5% growth, year after year. To see how this portfolio would have actually performed over multiple 50-year historical periods, click this link to FireCalc and then press the Submit button to generate realistic graphs using the parameters described in the article.
Related Post