Today, I'm excited to put a Mad Fientist reader under the microscope for the first time!
A reader named Clay was brave enough to share his story so please take some time to read about his journey and share any advice you may have in the comments.
Clay unexpectedly lost his wife in a tragic accident shortly after adopting two children so his path to FI has been anything but easy. Despite this awful tragedy, he is nearing the FI finish line and has a lot of great advice to share about pursuing financial independence (and about life in general).
Enjoy!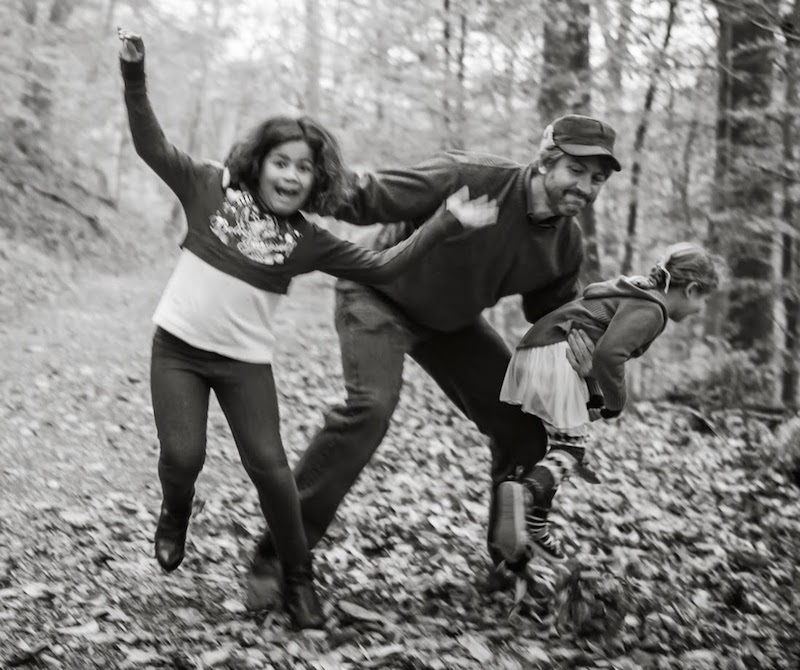 Occupation
Was a Network Engineer for years, now I'm a Section Supervisor for a networking group.
Current after-tax savings rate
Right about 50%
Time to FI
The current plan is to drop out before I turn 50 in July of 2018. I'm not sure I'll make it that long, since most of my spreadsheets tell me I'm right on the edge of FI right now. I've got a few loose ends I'd like to tie up but would really like to pull the trigger before the big Five-O so I can be that asshole at the party who can say he retired in his forties.
How did you get on the path to FI?
I've always been a firm believer in happiness over money. I've also hated waste and lifestyle inflation. I've always biked to work, drove paid off cars, and lived within my means.
In 2005 my wife and I took are hard look at our finances because we were preparing to adopt our first child. Made up a will, got some life insurance, basically got our shit together. We had tried for so long to have children that we really wanted to focus on this little one. So we got used to living on my paycheck alone and when the little bugger arrived it was an easy transition. So easy in fact that in 2009 we adopted our second. The finances part was easy mind you, not the kids part. Holy crap-on-a-cracker THAT was an interesting time.
Then in 2010 my world collapsed. My wife was killed in a freak auto-accident. I'm left with two kids under 5 and no idea what I'm going to do next.
In times of crisis I need to put things in order so this is what I did. With part of the insurance I bought two pre-paid tuition plans for my girls. I got my affairs in order, hired a live-in nanny, took some parenting classes, solicited cooking advice, and eventually went back to work.
By now I'm understandably having real deep thoughts on life. What is important? What am I going to do? I start to get obsessed with the concept of simplicity and before I go off and start building a tiny house, I stumble into the concept of early retirement.
I was trying to map out my next move and then in 2013 I get laid off from my job of 25 years at a University. (Are you freaking kidding me?) This turned out to be just the push I needed. By 2014 I'd downsized to a smaller house, moved to a walkable neighborhood with great schools, got a better job where I can still bike, and put a plan in action to not have to work by 2018.
FI Strategy
My strategy has to account for having two little germ factories at home to keep happy. I'm of course focusing on reducing spending where I can. Since my kids are both in school, I'll be able to reduce my nanny hours, which will help immensely. The next few years the focus will be on maximizing savings while still maintaining a realistic lifestyle.
I'm front-loading the 401k, getting a 10% match from work, and busting down the mega backdoor roth. (thanks MadFI!) I take full advantage of flexible savings plans for child care and health costs. I kind of geek out when I do my taxes so I'm always looking for ways to optimize.
Outside of the paycheck I have two rental properties that should cover about a third of my post-RE income needs. I've only had them for a 3 years but so far they have worked out quite well.
There is also a monthly survivors benefit payment for the kids for will keep coming (tax free) until they finish high-school, which is another third of post-RE income.
Investments
About ⅔ of my net worth split up between 401k/457b (Vanguard), Betterment, and Personal Capital and is invested as follows.
Cash 2.1%
International Bonds 4.2%
US Bonds 9.0%
International Stocks 27%
US Stocks 52.4%
Alternatives 5.4%
The other ⅓ is in real estate between my home (still have a mortgage) and the rental properties, which I own outright.
Future Investment Changes and Post-Retirement Income Strategy
I'm not fiddling around with my current allocation much. I'll probably leave it fairly aggressive since I'm hoping to not tap too much of it Post-RE.
When I do take the leap it will be interesting to see how close my expense projections and current spending is to Post-RE life. I'm hoping the added time means less spent on eating out and buying convenience foods. Also child care expenses should drop to almost nil. I'll still need some eyes on the little rascals so myself and my financially-savvy and lovely girlfriend can spend a frugal night on the town.
I might consider paying off my house once I retire, since the tax benefit of the mortgage interest would be gone. However, I'm seriously considering buying another rental property instead which would bring a more positive cash flow after the same initial outlay.
Post-FI Plans
I'm really intrigued by slow travel and the idea of a "gap year" for my kids in another country. I've done some cross-country bicycle touring in the past and would really enjoy spending long summer vacations on the road. Maybe a small RV or a tent is in my future.
I've been playing music almost daily for several years now and I'd really like to have a standing gig playing in a cheesy coffee shop somewhere. It has always been a hidden dream of mine so maybe it's time to make that happen.
Since I'll still have a good 10+ years of being just Dad to my girls before they ship off for college, I'll be spending a big part of Post-FI just being a big a pain in their butts. A retired Dad with IT skills can spend loads of time researching the background of would-be suitors.
Best part of being on path to FI
The finance aspect is only part of it. What I'm really enjoying is honing the focus on what is truly important. It is so healthy to take a hard look at life, finance, work, friends, and family. Oh and I love the idea of having a track to that F-You money,
Biggest challenge while pursuing FI
Old habits die hard. I'll still splurge on the occasional tech toy. I'm terrible at packing a lunch for work. It also takes some effort to not fall into the "only the best" for my kids trap. Otherwise I find the financial track to FI fits right in with my general thinking anyway so it hasn't been a huge sacrifice at all.
I think the biggest challenge for me will be emotional. I've worked and defined myself by what I do for so long that coming to grips with a new reality will be an adjustment. Will I be happy as just "Dad"? There is also still part of me that is uneasy with the idea of "leaving money on the table" so to speak. The security of that regular paycheck is hard to let go of.
Questions for your fellow fientists
Early-retired and with children? I'd love to hear how the heck you do it.
Any parting advice?
Life can change in an instant. Believe me. This is not a cliche. FI as a goal is wonderful but it isn't the only thing in life. The recent post by our slightly mad host should be required reading. So is this quote from Hemingway…
"It is good to have an end to journey toward; but it is the journey that matters, in the end."
Mad Fientist's Comments
I can't imagine what you've gone through but excellent job creating a stable life for your children and keeping a positive attitude despite everything that's happened. Rather than feel sorry for yourself and give up when you lost your wife and then your job, you instead took action and worked hard to improve your family's situation. I think your story will not only be inspirational to others dealing with hardship but it will also help people prioritize the things that are important on their FI journey and in life in general so thank you very much for sharing!
I don't have any kids myself, so I don't have any personal advice, but I did interview a very interesting guy with 13 kids who is nearing early retirement so check out that post for a lot of excellent FI-with-kids advice!
Do you have your money split between Betterment and Personal Capital? If so, I'd consider consolidating, since I imagine both of those services work better when they have a complete picture of your financial situation.
I feel the same way about worrying about "leaving money on the table" and I'm not exactly sure how to overcome that. I've finally worked my way into a job that I enjoy, that doesn't get in the way of my life, and pays good money (see The Power of Quitting) so I feel like quitting would be like throwing away a winning lottery ticket but I also realize that life could be even better after leaving full-time work so I'm not sure when to call it quits.
I recently had the pleasure of spending the weekend hanging out with Mr. Money Mustache and I asked for his advice and he said I need to remove money completely from all of my equations so if I would do my job for free, keep doing it, but if not, think about quitting (here's his excellent post on that idea). I'm trying to work my way into that mindset but I'm still not quite there yet! Old habits die hard, as you mentioned :)
Overall, it seems like you're on a great trajectory so nice job again, thanks for sharing, and hopefully your remaining journey to FI and beyond will be smooth sailing!
Reader Suggestions
Do you have any suggestions for Clay? Anything you think he could improve on to speed up his journey to FI?
Related Post