I think the shock really hit me about halfway through the flight.
Although the strong smells of drying fish, the weird food, and the jet lag made the previous few days in Hong Kong unique, it wasn't until we boarded the regional Chinese plane to Wenzhou that a bit of panic started to set in.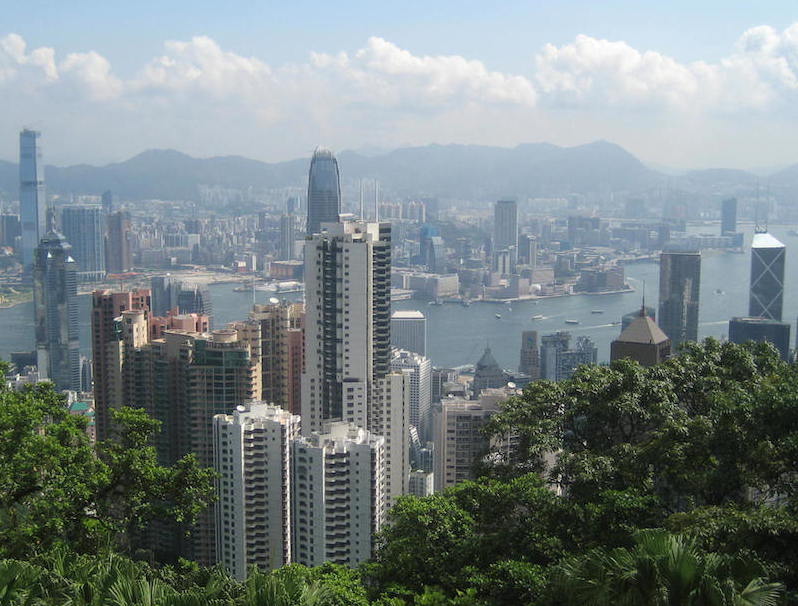 At first, it was a normal flight and we were excited to get to the place that would become our new home for the next three months.
As we sat on the flight though, the Chinese man next to us began hacking up a lung and depositing the lung onto the floor of the aircraft.
He wasn't inconspicuous about it either. Flight attendants would walk by in the middle of these extremely gross episodes, or just afterwards when he would use his shoes to spread his "gift" into the carpet of the aircraft, and nobody even batted an eyelid.
It was then that I knew China was going to be an experience I would never forget.
The next 24 hours intensified my culture shock and left me wondering why I couldn't just be a "normal" American who was content with working during the week and having a few beers with friends over the weekend.
From thinking we were going to die during the drive from the airport, to worrying that all the people staring at us were out to get us and that everything that we ate would poison us, it was quite a stressful first few days to say the least.
Once we settled in though, we realized that the driving, although very crazy and scary at first, actually worked and made sense. The people staring at us were friendly and just curious (it's not often that people in less-touristy parts of China see a 6-foot-tall, blue-eyed American and a blonde-haired, blue-eyed Scottish girl). And the food, although not being 100% agreeable with our Western stomachs, wasn't going to kill us.
Our three months in China in 2009 ended up being a life-changing experience and we've been hoping to go back to Asia ever since.
Luckily, we don't have to wait much longer…
Thailand
On January 6th, Jill and I fly from Prague, Czech Republic to Bangkok, Thailand.
We will spend some time in Bangkok, Cambodia, and Malaysia before settling down in Chiang Mai, Thailand for at least a month. During our time in Chiang Mai, we plan to make a few trips to the border regions to volunteer (Jill will be using her optometry skills to provide eye care and I'll hopefully be able to tag along as well). Finally, we'll head to one of the Thai islands for a bit before flying back to Scotland in March.
Early Retirement Preview
As I mentioned in the Power of Quitting article, I have continued working for my American employer since moving to Scotland. It's actually been working out great and I plan to continue after returning from Thailand but I will be taking unpaid leave while we're in Asia.
I look forward to testing the early-retirement waters without actually quitting my job so I'll treat my time in Asia as a trial run to see how it goes.
Geographic Arbitrage
I plan to track all of my expenses in each of the countries we visit so that I can determine how much of an impact geographic arbitrage could have on someone's journey to FI.
The idea behind geographic arbitrage is that you earn money in a strong currency (like the US Dollar) and then spend money in a weaker currency (like the Thai Baht).
For those of us who can work from anywhere (or who have investments and/or side businesses that earn money regardless of where we are), moving somewhere with a weaker currency could drastically reduce the time it takes you to achieve financial independence.
Why You Should Move Abroad
After thinking about my time in China and also the last few months transitioning back to Scotland, I realized that moving abroad could be a huge boost to someone's FI journey for multiple reasons:
Geographic Arbitrage – Maintain the same standard of living while spending significantly less
Prioritization of Belongings – When packing for a trip, you figure out what you actually need and realize how much stuff you don't
Reduction of Belongings – If you move abroad permanently, like we did, it forces you to get rid of pretty much everything you don't use
Minimalism – When you go through the process of reducing your belongings to just a few checked bags, you'll never want to buy anything ever again (trust me)
Appreciation – If you feel like the world's unfair because you can't get the latest iPhone, go live in a third-world country for a bit and that will never happen again
Responsibility – Once you realize how hard others have to work just to survive, you'll feel a greater responsibility to use your money wisely and not squander it away
Motivation – Experiencing the world will motivate you even more to escape the cubical as quickly as possible
Facebook/Twitter
I plan to post pictures and prices of things we buy/eat/drink during our travels so if you're interested in seeing how far a dollar goes in Southeast Asia, follow me on Facebook and Twitter!
Related Post