Since it's that time of year again when many people are able to make changes to their health insurance plans, I wanted to revisit the Ultimate Retirement Account (i.e. Health Savings Account).
Rather than simply link to last year's post (which you should definitely check out if you haven't already), I decided to use what limited artistic ability I have to make a graphic that describes how to best use an HSA for tax-avoidance purposes.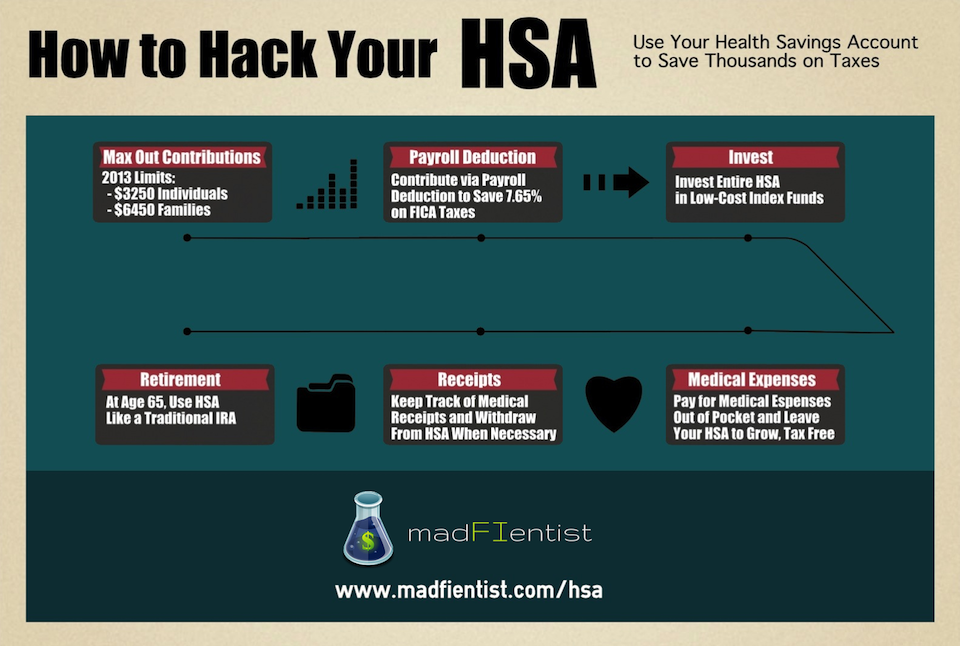 Click image to enlarge
If you'd like to share the image, feel free to embed it on your website using the following code or share it on social media using the various buttons at the bottom of the post.
Max Out Contributions
Decrease your tax burden by contributing the maximum amount to your HSA each year and increase your savings rate by investing the tax savings.
Assuming you are in the 25% tax bracket, maxing out your HSA could save you over $800 in taxes each year.
Payroll Deduction
When you contribute to your HSA via an automatic payroll deduction, you are able to avoid paying FICA taxes (i.e. Social Security and Medicare) on your contributions.
Assuming you max out your HSA, this could result in an additional $248 of savings per year.
Invest
Rather than treat your HSA as a savings account, instead treat it as a retirement account and invest the entire HSA balance in low-cost index funds (note: not all HSA custodians offer low-cost index funds so make sure yours does before opening an account).
Medical Expenses
Rather than use your HSA to pay for medical expenses, instead use your after-tax money so that you can leave your HSA money to grow tax free.
Receipts
Keep track of all your medical receipts so you know how much you are able to withdraw from your HSA.
As you incur qualified medical expenses, you increase the amount that you can withdraw during early retirement (you effectively convert your HSA into an early-retirement Roth IRA over time).
Bonus:
To keep track of how much of your HSA can be withdrawn immediately,
click here
to download a free copy of the spreadsheet I used on my own journey to financial independence!
Retirement
Assuming you reach the age of 65 and have not accumulated enough medical receipts to fully liquidate your account, the HSA can be used for ordinary expenses in the same way that a Traditional IRA can be used for any expenses after standard retirement age (note: withdrawals for qualified medical expenses will continue to be tax free but withdrawals for all other expenses will be taxed as income, just as Traditional IRA distributions are taxed).
Conclusion
By treating your HSA as a retirement account instead of a savings account for health-related expenses, you can use it to further reduce your tax burden during your working years, shelter more of your investment earnings from tax, and potentially provide a source of tax-free income during your early retirement years!
Related Post
The Ultimate Retirement Account
By using your Health Savings Account (HSA) intelligently, you can receive the best benefits of a Traditional IRA and a Roth IRA in one account!