I can't believe it but it's already time for the second annual update of the Guinea Pig Experiment!
The Guinea Pig experiment follows two people with identical income and spending on their journey to financial independence, using real-time decision-making and market returns.
The only difference between the two scenarios is that one of the guinea pigs (Optimized GP) uses the strategies and tactics I write about here and the other one (Normal GP) doesn't. As you're about to see, these optimizations make a huge difference!
To check out past articles in the series, visit the Archives page. To see the latest Guinea Pig numbers at any point during the year, head over to the Guinea Pig Experiment homepage!
Year Two Summary
After just two years of investing, the Optimized GP has $18,791 more than the Normal GP ($79,115 vs. $60,324), even though both spent the same amount of money, invested in the exact same ETF, and had the same income!
To put it another way, the Optimized GP increased his net worth by over 31% just by utilizing the tax-avoidance strategies described below!
Not only does the Optimized GP have more money, he's going to be able to retire over two years earlier than the Normal GP!
Graphs
Here are the FI Laboratory graphs for the two scenarios.
If you haven't started tracking your own progress yet, sign up for a free Personal Capital account to automatically calculate your net worth, monthly spending, etc. and then plug those numbers into the FI Laboratory to see if you can keep up with the guinea pigs!
Normal Scenario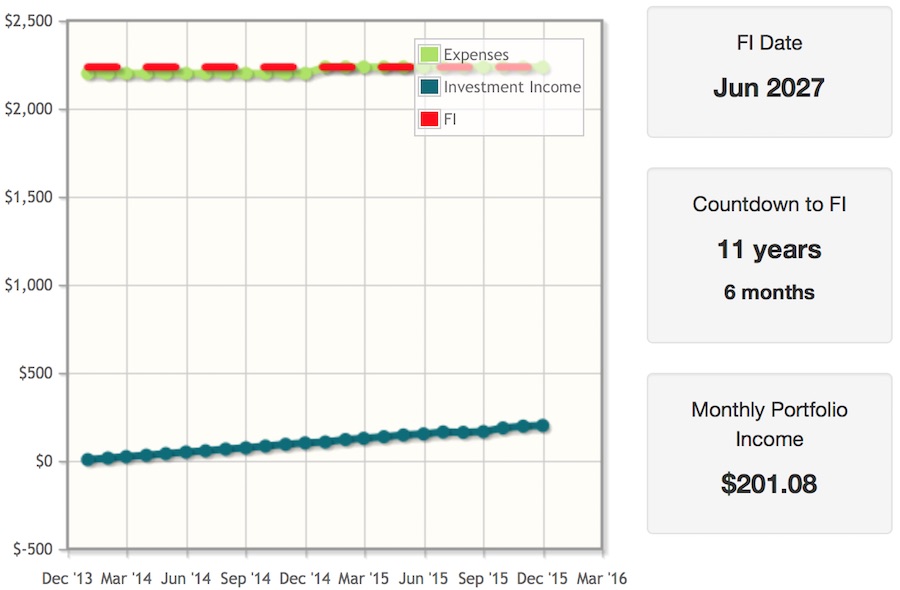 The Normal GP continued to save diligently and has built up a portfolio that could provide over $200 of passive income every month, potentially for the rest of his life!
Optimized Scenario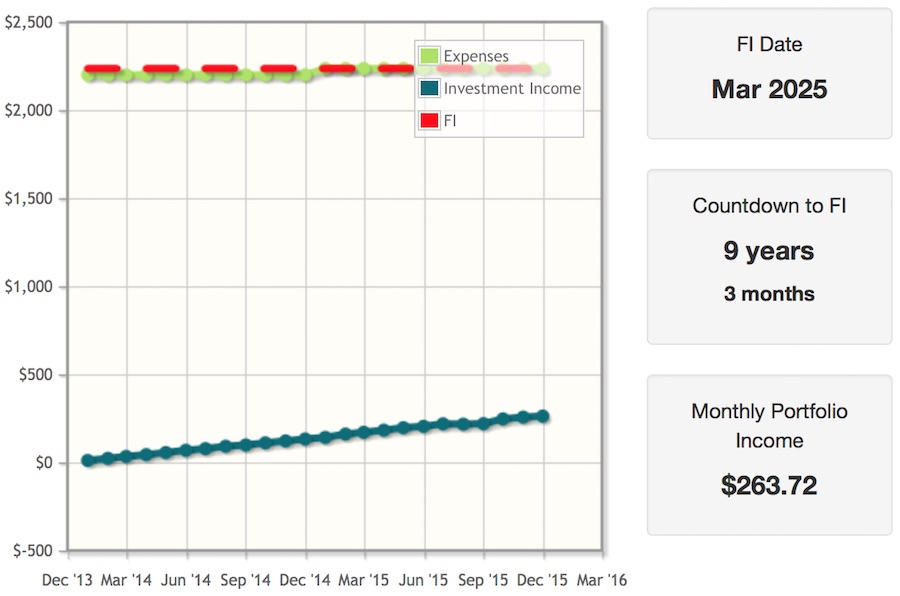 The Optimized GP obviously did even better. He will reach financial independence two years and three months sooner than the Normal GP and has already built up a portfolio that could provide over $260 per month!
Breakdown
Since I record all of this information in a custom spreadsheet, I'm able to calculate how much each of the strategies utilized by the Optimized GP affected the total returns.
Bonus:
If you want to use a similar spreadsheet on your own journey,
click here
to get a copy of the custom spreadsheet I used during my pursuit of financial independence!
Let's take a look at how this 31% increase was actually achieved…
401(k) Match
The first thing that the Optimized GP did was take advantage of his employer's 3% 401(k) match.
This one move resulted in an additional $5,079 over two years for the Optimized GP, or an additional 8.42%!
Biggest takeaway: No matter what is happening in your life, find a way to at least contribute enough to your 401(k) to get the employer match!
401(k) Max
The Optimized GP also decided to max out the rest of his 401(k).
If you're thinking to yourself that maxing out the 401(k) is a stupid move since the GP will need to access that money long before traditional retirement age, check out this post to learn about some great strategies that early retirees can use to tap into that money early without paying any fees (or taxes, potentially).
This decision resulted in an extra $7,994 by the end of year two, or an extra 13.25%!
Health Savings Account
After reading my Ultimate Retirement Account article, the Optimized GP also decided to max out his Health Savings Account again this year.
Contributing to his HSA resulted in an additional $2,031 (or 3.37%) over the past two years.
Traditional IRA
Thanks to my Traditional IRA vs. Roth IRA article, the Optimized GP decided to max out his Traditional IRA as well.
This move resulted in an extra $2,804 (4.65%) by the end of year two.
Front-Loading
As I described in my Front-Loading article, it makes sense to max out your retirement accounts during the beginning of the year so that your tax savings have more time to grow. This won't be beneficial every year but since the market's long-term trend is up, it's beneficial more often than it's not so it's a good long-term strategy.
Since the market was higher at the beginning of 2015 and then took a dive in the autumn, front-loading probably cost the Optimized GP some tax-loss harvesting opportunities in 2015 but overall the strategy has been beneficial because it's resulted in an extra $883 (1.46%) over the first two years of the experiment.
Taxes
Thanks to these smart tax-avoidance moves, the Optimized GP paid $6,918 less in taxes in 2015 than the Normal GP.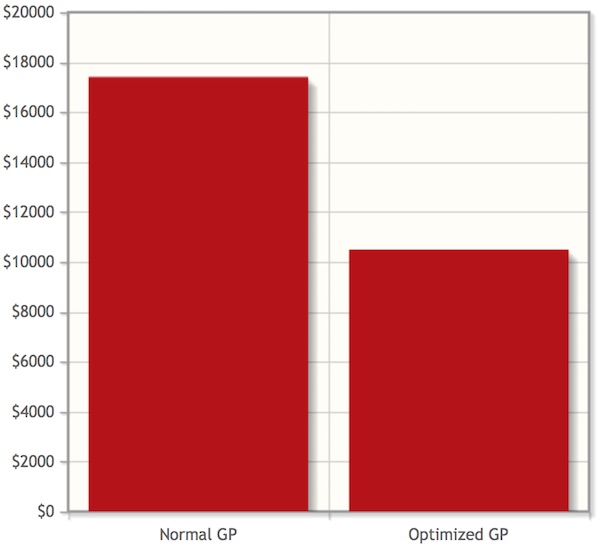 Contributions
These tax savings, combined with the employer 401(k) match and the additional dividends received, resulted in $8,759 worth of extra investment contributions during the year for the Optimized GP!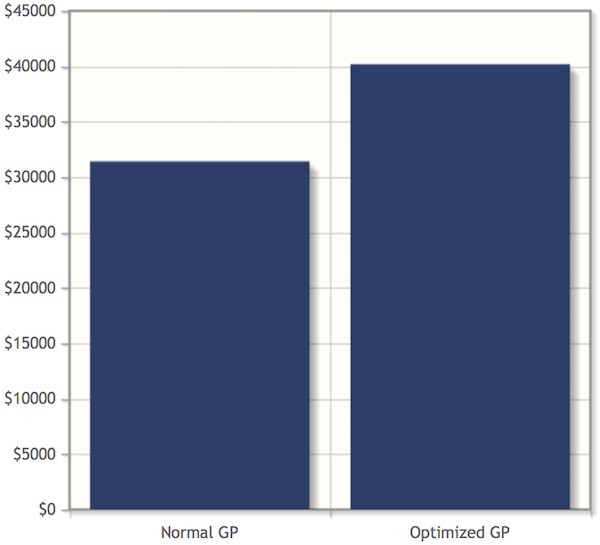 Conclusion
Another great year for the guinea pigs, especially the Optimized GP!
With the crazy start to 2016, I'm hoping to do some tax-loss harvesting and other fun stuff with the Optimized GP this year so to stay up-to-date with these real-time decisions, follow me on Twitter and Facebook!
To keep an eye on the experiment's monthly investment summaries, check out the Guinea Pig Experiment homepage (which gets updated at the beginning of every month).
How About You?
How did your numbers compare to the Optimized GP's in 2015?
Were your FI Laboratory graphs as impressive?
Related Post