Happy new year!
It feels like ages since I last wrote an article and that's because it has been a long time.
It's great to be pounding on my keyboard again though, especially while enjoying a hot coffee on a frosty winter's day.
We just finished our 3-month trip around the world (much more on that in an upcoming post) but now we're back in Scotland and I'm excited to get started on all the Mad Fientist stuff I have planned for this year!
Here's what's coming in 2017…
Software
Travel Hacking
I mentioned that we just finished three months traveling all around the world. What I didn't tell you though is that nearly all the flights were paid for by frequent flyer miles that I accumulated for free.
Not only that, we used miles to fly on some of the nicest business-class planes in the world, we stayed in luxurious hotels for free, and had a lot of other fun experiences, all thanks to miles and points.
Since our trip highlighted the incredible benefit of travel hacking, I plan to write and release more software tools (like the credit-card search tool I created) to help make travel hacking easier and more rewarding for you.
Laboratory
The FI Laboratory is an application that I put together over a couple of weekends back in 2014.
I didn't put a lot of time into making it fancy because I wanted to see if people liked the idea first.
Well, tens of thousands of people are now using the app and I still haven't updated it since I initally developed it!
This year, I plan to make significant improvements and hope to add even more features to help you on the journey to financial independence.
If you aren't yet tracking your progress to FI in the FI Laboratory, click here to sign up for free!
Redesign
In addition to developing more custom software, I'm also redesigning this site.
I've been working with my graphic designer buddy and his firm and they've mocked up some incredible ideas so I'm excited to get everything updated soon.
Here's a sneak peek of the top of my new About page: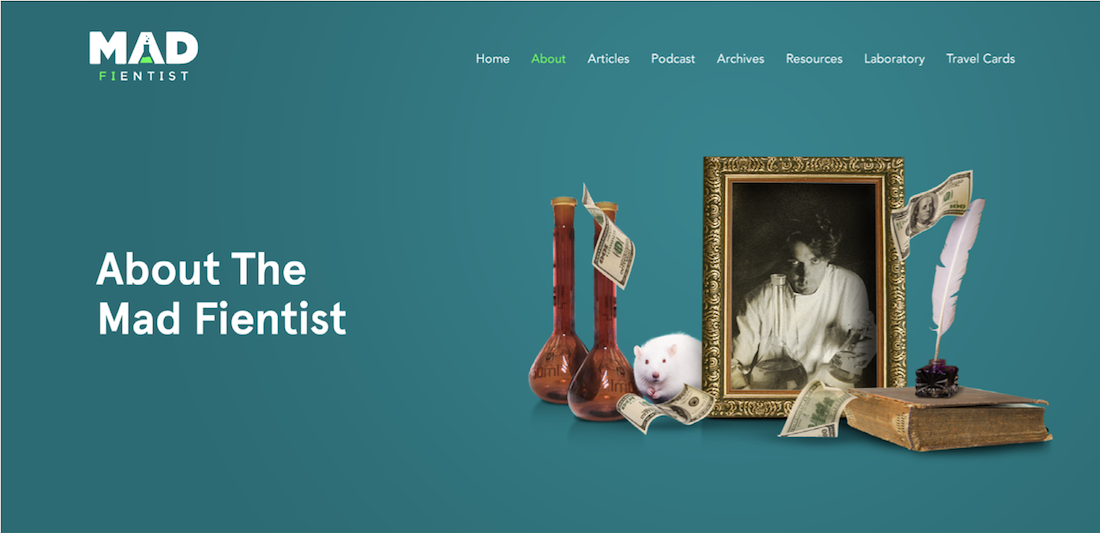 So ridiculous but ridiculously awesome!
As part of the redesign, I want to make it easier for you to find all the content I've written over the years.
There are a lot of old articles that I'm really proud of but since they're buried in my archives, few people end up finding them so I plan to reorganize everything and package it in a way that you can quickly get up to speed with everything that's gone on around here in the last five years.
New Focus
As far as new content here is concerned, my focus will be shifting slightly.
Don't worry, I'll still write about innovative strategies to help you reach financial independence as soon as possible. In fact, I have an incredible guest post to publish next week that dives into all the tax-avoidance strategies you can utilize when investing in real estate. It's fantastic so I can't wait to share it with you!
I also plan to explore topics relating to the transition into early retirement. I haven't even mentioned what life has been like since I quit my job in August but I've been recording what I've been thinking and going through since then so I plan to share my thoughts and advice soon.
As you can see, the core focus here will always be about financial independence but at the end of the day, the real point of this FI stuff is to be happy and happiness is a lot more complicated than simply saving a bunch of money.
Happiness comes from accomplishing goals, challenging yourself, building relationships, fully appreciating experiences, etc.
These are the things that I'm focusing on now in my own life so I plan to write much more about these topics as the year progresses.
Also, I've realized that financial independence gives you the opportunity to make your wildest dreams come true so while attempting to accomplish some of my own lifelong goals this year, I'm going to research ways to help you do the same.
Since I don't post on a regular, consistent schedule, the best way to stay up to date with new articles is to sign up to the email list. That way, you are notified when something new comes out and you don't have to keep checking back here.
Join over 45,000 other people on the email list (holy shit!) by entering your details on the form below:
In-Person Meetups
As I mentioned in my last podcast episode, I plan to do a lot more in-person meetups in 2017.
Computers are fun and all but meeting people in person, hearing their stories, and having a laugh over a few beers is what I really love about being the Mad Fientist.
I've met a lot of incredible people over the years so this year I want to try to meet even more of you.
UK Chautauqua
The first major event I'll be attending is a new event that I'm really excited to announce – the UK Chautauqua!
You may remember Alan from this recent podcast episode.
Well, Alan and his wife Katie were attendees at the Ecuador Chautauqua last year and they had such an incredible time (as we all do) that they decided to organize a Chautauqua of their own in their home country of England.
I was pumped when they asked me to speak because England is right down the road from Scotland and the itinerary they organized looks incredible!
Location and Itinerary
It's taking place in a beautiful English country house (that dates back to 1060AD) in Stratford-upon-Avon.
The house is set on 40 acres of deer-filled English countryside so we're going to have some epic games of hide-and-seek, followed by obligatory tea and crumpets, followed by a dip in the hot tub, all before retiring to the study to enjoy a fine Scottish single-malt whisky (or two).
We'll be visiting the queen's home (Windsor castle), Shakespeare's birthplace (Stratford-upon-Avon), and home of one of the world's oldest and most prestigious universities (Oxford).
We'll also get to enjoy quintessential English things like afternoon cream tea and (most importantly) a British curry!
Thanks, Brexit
Thanks to Brexit, this is the perfect time for a UK Chautauqua because the British pound (£) has been decimated over the last year so the UK is cheaper than it has been in decades!
Co-Presenters
I haven't even mentioned the other lucky gits (you might as well start learning British slang now) who got asked to present at the UK Chautauqua…
JL Collins from JLCollinsNH
First up is the man who came up with the Chautauqua idea in the first place, JL Collins.
Jim has been on my podcast twice so check out his episodes (here and here) if you want to learn more about him, or you can buy his excellent book, The Simple Path to Wealth, by clicking here.
This is what he had to say about the upcoming UK Chautauqua: Chautauqua – United Kingdom: August 2017
FIRECracker from Millennial Revolution
The second presenter is FIRECracker (aka Kristy) from Millennial Revolution.
She recently brought down the house on a recent episode of my podcast and I can't wait to meet her for the first time in England!
Seems like Kristy is also ridiculously excited about this new event: Chautauqua UK: A Cackling Good Time for All
Alan from PopUp Business School
Finally, Alan will not only be hosting (with his wife Katie) but he will also be using his incredible presentation skills to share even more of the business knowledge that he gave us a glimpse of when he chatted with me on the Financial Independence Podcast!
Registration
Registration is now open so if you're interested in joining us, check out all the details here and register before it sells out!*
Travel Assistance
If you want to travel hack your flight to the UK but need a little help, past podcast guest Brad from Richmond Savers and Travel Miles 101 has offered to personally help all Chautauqua attendees get to the UK as cheaply as possible using frequent flyer miles.
Brad is a personal friend of mine and knows what he's talking about so definitely take him up on his offer (and be sure to sign up for his free Travel Miles 101 email course to learn the ins-and-outs of travel hacking so that you can travel hack your next trip on your own).
Edinburgh
If you do decide to attend the UK Chautauqua and want to pop up to Scotland while you're in the UK, we'd love to show you around Edinburgh so get in touch after you book your ticket and we'll arrange to meet up!
Ecuador Chautauqua
In addition to the UK Chautauqua in August, I'll also be heading back down to Ecuador for my third Ecuador Chautauqua in October!
I'm sure you've heard me say how fantastic the past Ecuador events have been so I'm excited to be going back again this year.
The 2017 Chautauqua is actually going to be the biggest yet, with five presenters and more attendees, so it should be even more fun!
If you want to join me, Mr. Money Mustache, JL Collins, Paula Pant, and Cheryl Reed at a gorgeous 17th-century hacienda in Ecuador, head to this page for more information!
Registration doesn't open until January 15th but you can get on an early-notification list to be notified when it opens up (which is recommended because this event tends to sell out very quickly).*
Elsewhere
In addition to the Chautauquas, I'm also planning on attending FinCon in Dallas in October and possibly some FI meetups in Europe as well so I'll keep you posted on those (keep an eye on my Twitter or Facebook pages for any future meetup announcements).
And if you happen to find yourself in Edinburgh, Scotland, I'd love to grab a coffee or a beer so shoot me an email!
What do you think?
It looks like this year is shaping up to be a really exciting one so hope yours is too.
I obviously want to make the Mad Fientist as useful as possible so is there anything you want me to cover or focus on that I didn't mention? Any other software you'd like me to create? Please let me know in the comments below.
Here's to a great year and I hope our paths cross somewhere in the world in 2017!
*Although the UK and Ecuador Chautauquas are incredible events in beautiful locations with fantastic people and activities, they aren't exactly cheap so make sure you're in a good financial position before you choose to attend.
We're not sharing any "secret investment tips" or anything so just think of these trips as fancy vacations with like-minded people.
If you have the extra money to take a fancy vacation, great! It will likely be the vacation of a lifetime.
If you decide Chautauquas are too expensive for you right now but you still want to meet other people who are pursuing FI, I recommend you find a local FI or Mustachian meetup group (or start your own) so that you can start meeting others with similar goals and ambitions (it's really fun and motivating). Then, after you hit FI and have more money than you know what to do with, you can come hang out in the UK, or Ecuador, or wherever future Chautauquas are held :)